Report: Raptors can trade Bargnani for Boozer 'whenever they want'
A Boozer-Bargnani swap with the Bulls is available to the Raptors, but the trigger hasn't been pulled.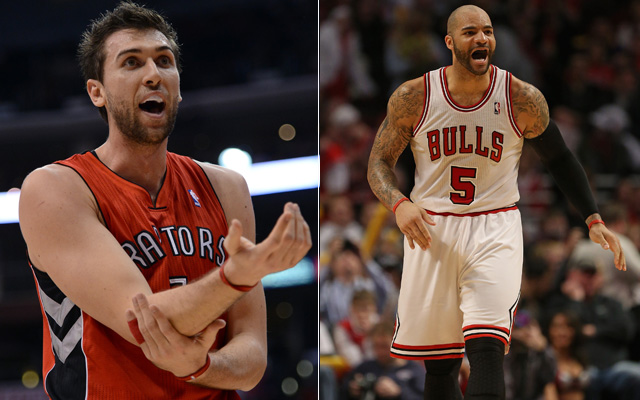 Could these two power forwards swap zip codes?
(Getty Images)
A week ago, we shared a report with you indicating there were talks of a potential trade between Chicago and Toronto to send Carlos Boozer to the Raptors in exchange for Andrea Bargnani, essentially swapping power forwards the two franchises are paying big money to and who they have concerns about. 
News of the talks died down in the past seven days, but Friday the Chicago Tribune reported that the deal is still there, still active and just waiting for one team to pull the trigger...
And it isn't the Bulls. 
Of course, that might not happen if the Bulls make a move by Thursday's trade deadline. League sources said last week the Raptors were told that the Carlos Boozer and Nate Robinson deal for Bargnani and John Lucas III was available whenever they wanted it.
via Chicago Bulls: Chicago Bulls limp into All-Star break -- Chicago Tribune.
Gotta say, if that's the case, hard to understand why the Raptors aren't jamming the trigger repeatedly. They've been trying to get rid of Bargnani for months, and it isn't exactly easy moving an underwhelming stretch 4 with poor rebounding and defensive skills who will make $11 million for two more seasons. 
Yes, Boozer comes with his own defensive issues, a massive contract and more of an age issue. But the Raptors clearly want to improve now. Not in the future, but now. That's why they traded for Rudy Gay. Boozer and Gay make for an expensive but at least notable combo. It gives fans two players to rally around, and Boozer has played well this season. 
If the deal's there, Toronto should take it. We'll see what happens between now and Thursday. 
You can follow Eye on Basketball on Twitter @EyeOnBasketball. Follow Matt Moore at @MattMooreCBS and like us on Facebook. 
Show Comments
Hide Comments
Series prices show Dubs light years ahead

Green responded that he's 'the modern day Draymond Green'

Our experts predict whether the Jazz can compete with Golden State, along with the rest of...
Breaking down key matchups as the second season reaches the conference semifinal series

Pierce's 19-season run in the NBA ended Sunday as the Clippers bowed out of the playoffs

Utah overcame its relative lack of experience with a balanced, deep and versatile roster