Report: Raptors may not trade Kyle Lowry, look for playoff run
The Toronto Raptors' surge since dealing Rudy Gay has made them rethink moving Kyle Lowry as they eye a playoff spot.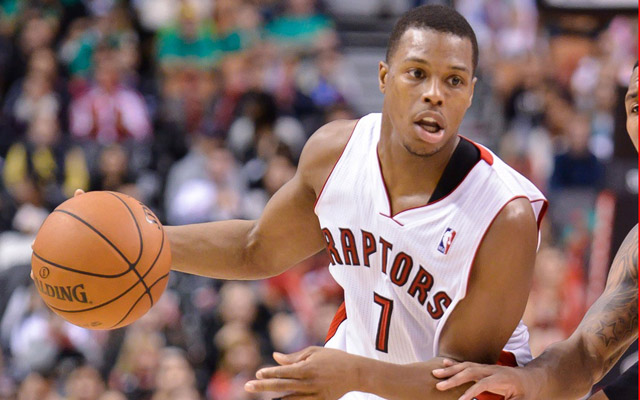 When the Toronto Raptors traded Rudy Gay in December, it was assumed they were getting ready to clear the decks with their roster and start tanking for the 2014 NBA Draft. There has been one little problem with that assumed plan; the Raptors are 11-5 since moving Gay and are currently the fourth best team in the Eastern Confernence. They're in prime position to not only make the playoffs but host a first round series and possibly move to the second round.
That extra playoff revenue and sixth postseason in franchise history could be enough incentive to not move their other veterans and make the playoff push. According to Marc Stein of ESPN.com, the Raptors aren't too keen on trading away point guard Kyle Lowry as they have eyes for the playoffs. 
For the first time, there are certifiable rumbles emanating from Toronto suggesting that the Raptors might well keep point guard Kyle Lowry for the rest of the season. Word is new GM Masai Ujiri continues to resist locking into any sort of firm position -- leaving open the possibility of a Lowry deal if the offers suddenly get sweeter -- but team officials appear to be growing increasingly comfortable with the idea that it's better to go for what would be just Toronto's third playoff berth in 13 seasons rather than try to do the absolute uber-tanking it would take from here for the 17-17 Raps to get into Andrew Wiggins range now. 
Lowry has averaged 17.6 points, 8.4 assists, and 4.7 rebounds since Gay was dealt to the Kings and is a big reason the Raptors have surged toward first round home court advantage. There have been plenty of suitors for his services but moving assets for Lowry has been an idea most GMs aren't willing to accept just yet. While there is still a lot of time between now and the trade deadline, the Raptors' success seems to be enough to make them want to capitalize on it.
The question becomes how detrimental is this to the Raptors' long-term plan? The thinking could be you don't pass up on building some good faith credit with the fan base when it comes to a roster they're very much behind right now. And if you trust Masai Ujiri to build you a winner no matter what your record is at the end of this season then it makes sense to try to have your cake and eat it too.
However, missing out on a top prospect in a loaded class could hurt the team long-term if they can't find a way to get that star player they desperately need to build a contender. It's a delicate balance the organization is trying to figure out while maximizing this success.
Show Comments
Hide Comments
League to host its first awards show to announce the winners of major honors, such as MVP

They'll be the only team in the league wearing Jordan Brand uniforms next season

On a night of blowouts, Stephen Curry led the Warriors to a sweep and the Raptors got their...
The playoffs are getting interesting

The Cavs and Warriors have both swept their first-round opponents

Our NBA experts predict the first round of the playoffs