Report: Raptors re-assigning Bryan Colangelo for run at Masai Ujiri
The Toronto Raptors reportedly won't fire Bryan Colangelo, but will make him a corporate figure and take the team in a new direction.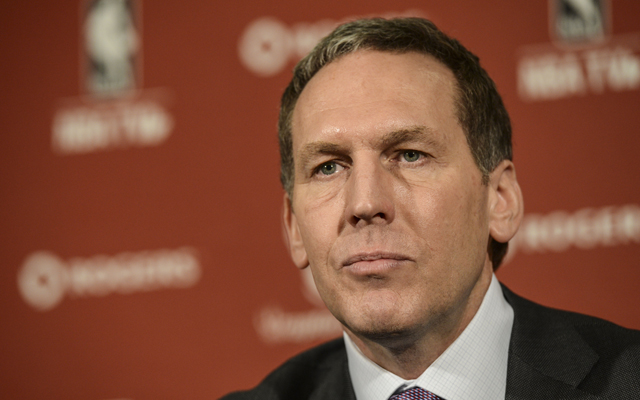 The Toronto Raptors have had reported interest in bringing in Phil Jackson to take the organization in a new direction. They reportedly have interest in making a run at Masai Ujiri of the Denver Nuggets as well. What they don't seem to have interest in is keeping Bryan Colangelo in charge to shape the roster for the future of this team. 
However, they may not be kicking him out of the organization completely. Adrian Wojnarowski of Yahoo Sports is reporting that Colangelo will be moved to the corporate side of Maple Leafs Sports and Entertainment (MLSE owns and operates the Toronto Raptors) to make room for a new president of basketball operations and general manager for the Raptors. Ujiri, the 2012-13 NBA Executive of the Year, is reportedly the intended target.
Colangelo's finalizing agreement to move over to business side, leaving basketball ops. Ownership preparing major financial offer for Ujiri.

— Adrian Wojnarowski (@WojYahooNBA) May 20, 2013
Doug Smith of the Toronto Star is also reporting the news about Colangelo to corporate side of MLSE.
Colangelo has been on the job for the Raptors for seven years and the Raptors have never made much progress during that time. They made the playoffs in his first two full seasons on the job and have had five straight losing seasons since that brief playoff run. He lost Chris Bosh to the Miami Heat in free agency in the summer of 2010 and most recently he traded for Rudy Gay from the Memphis Grizzlies as he tried to build the Raptors back into a playoff team.
During his tenure (full seasons only included), the Raptors have posted a record of 240-318. 
Show Comments
Hide Comments
You play who's in front of you, and that's what Golden State did -- and beat everyone it f...

This is the first sweep the Spurs have suffered since 2010

Pop doesn't know whether Manu Ginobili will retire, but he wanted to give him a proper salute...
San Antonio doesn't know what will happen with Manu Ginobili and Patty Mills this summer

Our experts predict every series in the 2017 NBA playoffs

Check back here for all of the conference finals results from the NBA playoffs