Report: Raptors to pursue Jeremy Lin
A report indicates the Raptors will make an offer for Jeremy Lin should they be unable to pull in Steve Nash.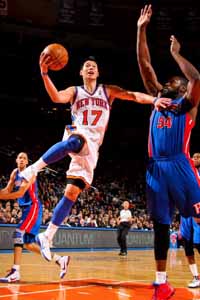 Jeremy Lin will have a lot of offers in free agency this summer.
(Getty Images)
Jeremy Lin
's going to have options when he enters restricted free agency this summer. Being a point guard phenomenon who also serves as a marketing juggernaut tends to work like that. The
Knicks
are likely to match any offer, but this is the Knicks, anything can happen. And a report indicates that a team in the Knicks' division is likely to make a swing for Lin. From the
New York Daily News
:  
Toronto will be in direct competition with the Knicks for Steve Nash. But Nash is expected to look to sign with a bona fide contender, and the Knicks and Raptors don't fit that description. The Raptors are also a potential landing spot for Jeremy Lin. They like him and what he'd do for their attendance, but Toronto would have to "back-load" an offer to the restricted free agent, paying him gazillions in the final couple of years of a deal, and hope that the Knicks would not match. According to league sources, that's what the Raptors just might do if their Nash plan falls through. But considering that the Knicks have no other viable options at point guard, and Lin has been nothing short of a marketing dream, they're seen as a lock to match any offer.
via With Chicago Bulls' fate tied to Derrick Rose's health, Miami Heat's Pat Riley recalls Dwyane Wade's '05 injury - NY Daily News.

The Raptors are facing a decision with Jose Calderon on the books for $10.5 million. He's had some success there, but has also been open to a trade to a contender. Lin would represent a huge step in a different direction, but again, prying Lin away from the Knicks is going to require a crowbar. Since his emergence came in a Knicks' jersey, he has a unique value to New York, who also have the ability to capitalize better on Lin's popularity because of their market.

Well, that and their point guard roster is an utter and complete disaster. That's a problem, too. 

The report's honestly more important because it indicates the Raptors aren't holding pat at point guard. It'll be something to keep an eye on in the offseason how Toronto builds towards next year with a potential chance at the playoffs on the horizon. 
Show Comments
Hide Comments
The two best point guards in the East go at it in a series sure to be filled with drama.

Breaking down key matchups as the second season reaches the conference semifinal series

The second round of the 2017 NBA Playoffs tips off Sunday at 1 p.m. ET, with Game 1 of Cel...
The Spurs have homecourt advantage, and will host Game 1 Monday night at 9:30 p.m. ET

All-Star guard flew to Washington after Game 6 vs. Bulls to attend his sister's funeral Sa...

Some love for the Rockets over the Spurs, and at least one expert says the Cavs are going...