Report: Rockets extend four-year, $88 million offer to Chris Bosh
The Houston Rockets have reportedly offered the Heat star a max contract as LeBron James' decision overshadows both parties.
More Offseason Analysis: Updating Free Agency news | Top 40 free agents
ESPN reports that the Houston Rockets have offered Chris Bosh a four-year max contract for $88 million dollars.
Chris Bosh, after talking with LeBron James this past weekend, is seriously considering the Houston Rockets' maximum contract offer of four years, $88 million, according to sources close to the situation.

Bosh, since opting out of the final two years of his deal -- worth $42 million -- with the Miami Heat, had planned to see what James decided before making his choice.

But a conversation with James about his future in Miami this past weekend created enough doubt for Bosh to begin considering his other options, including Houston's offer, a source said. The source said Bosh did not know whether James was staying in Miami.
via Chris Bosh seriously considering Houston Rockets' max four-year contract offer - ESPN.
There have been conflicting reports about whether or not Bosh is waiting on James' decision to pursue his own choice in free agency. James is set to meet with Heat president Pat Riley this week to discuss his future in Miami but is heavily reported to be considering Cleveland behind a reported push from his agent. 
Bosh is a tremendous fit in Houston, where his expertise in pick and roll defense would mesh brilliantly with Dwight Howard and provide a floor-spacer to keep doubles off of Howard and James Harden. 
For more information on the situation with Bosh and Houston, click here.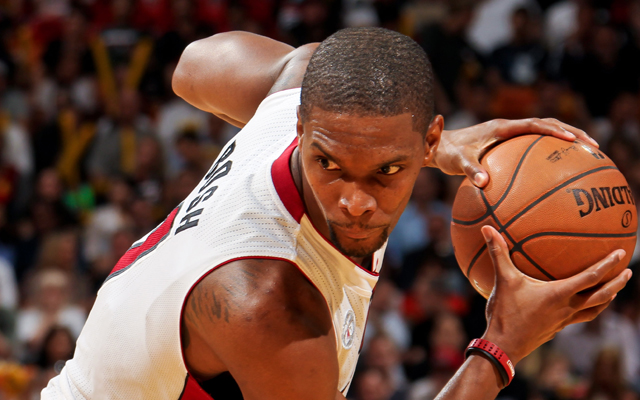 Show Comments
Hide Comments
It's not all about Stephen Curry and LeBron James being awesome -- we knew that already

Riley says he had a close friend who "talked him off the ledge"

Bryant continues his interesting post-retirement appearances
League to host its first awards show to announce the winners of major honors, such as MVP

They'll be the only team in the league wearing Jordan Brand uniforms next season

On a night of blowouts, Stephen Curry led the Warriors to a sweep and the Raptors got their...