Report: Rockets, Heat talk Dwight Howard-Hassan Whiteside swap
It's trade rumor season, and this sounds like a doozy.
• 1 min read
The trade deadline is three days away, so let's get totally crazy. The New York Daily News' Frank Isola reported that the Houston Rockets and Miami Heat are discussing a deal that would include both Dwight Howard and Hassan Whiteside. Take a second and think about that.
Howard is 30 years old and can become an unrestricted free agent this summer. When he's healthy, he's one of the top centers in the league, particularly on defense. Based on recent quotes, though, the Rockets appear to be in shambles, and they should probably do something. If they have doubts about investing big money in Howard again, it makes sense that they'd explore their options.
Whiteside is 26 and does not have Howard's troubling injury history. He will be an unrestricted free agent this summer, and Miami does not have his full Bird rights. He routinely puts up amazing numbers, but there are doubts about how much this translates to winning. Also, he's making less than $1 million this season, while Howard is making more than $22 million.
Due to the enormous salary disparity, the two can't be traded straight up. It would have to look something like this (Update: The Heat no longer have Chris Andersen to trade):

I'd say this qualifies as a blockbuster, and there's some logic to it:
1) The Heat love big names, and Howard is the best player in the deal. 
2) Neither team is taking on long-term money here. 
3) With Justise Winslow in the mix, it's possible that Miami would let Luol Deng walk this summer anyway.
This still seems like a longshot, though, because:
1) Houston might already have Howard's successor on its roster: Clint Capela. I'd argue that, if the Rockets are trading Howard, they should try to get help at a different position. 
2) The Heat aren't that deep, so losing Deng would hurt in the short-term. And there's no guarantee that this changes things long-term, with Howard having the freedom to go wherever he wants in July. 
3) Houston already has chemistry issues, and adding Whiteside in a contract year just seems risky. Maybe getting back veterans can help locker-room morale, but I'm not sure that a move like this would actually accomplish all that much other than changing things for change's sake.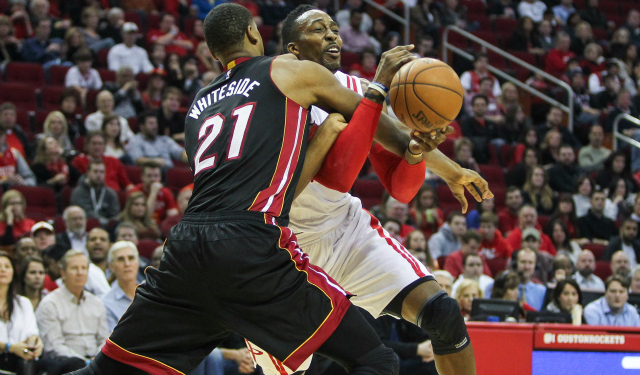 Show Comments
Hide Comments
The reserve guard has missed the last 11 games for the Clippers

Sounds like the Knicks need to figure out what's going on with their star forward

The future Hall of Famer opened up about his post-NBA life
Boston's star guard addressed the media for the first time since his sister's death

What does a first-round sweep mean for PG13's future in Indiana?

Celtics reverse course in Chicago; Pacers head home