Report: Rockets open for business, Dwight Howard on the trade block
Dwight Howard could be finding another home as Houston makes its first real declaration that big changes are coming.
The Rockets fell again to the Blazers Wednesday night, their sixth loss in the last eight games and third in a row. After the game, coach J.B. Bickerstaff described the Rockets as a "broken" team, and Jason Terry walked through the media room and said the team had "no chemistry."
Now Yahoo Sports reports that the Rockets have begun to shop former All-Star center Dwight Howard, officially.
The Houston Rockets have started contacting teams about trading eight-time All-Star Dwight Howard, league sources told The Vertical. Howard, 30, plans to exercise an opt-out in his contract this summer to become an unrestricted free agent, and uncertainty surrounding the commitment both sides are willing to make has pushed Houston general manager Daryl Morey toward seeking potential trades on the market, league sources said.The NBA's trade deadline is Feb. 18.The Rockets are working with Howard's agent, Dan Fegan, on possible destinations, league executives told The Vertical.
Source: Sources: Rockets contacting teams about trading Dwight Howard - Yahoo Sports. .
To be fair, Howard himself has not been the lone source of the Rockets' issues. While he's no longer able to make up for the weakness of his poor perimeter defenders, he remains an impact player inside and at the rim, still has a little shake to his post moves even if that's never been his strong suit, and is still a great screen setter and finisher in the pick and roll. He's a valuable player for Houston. He's also the only player you can get significant return for at this point outside of James Harden, which is why their only real recourse in order to shake things up is to move him.
The problem is his value to other teams. You're talking about a player with knee and back surgeries in his rear view, who hasn't been the same since leaving Orlando, who brings with him a goofball attitude, and can't operate in smallball lineups or against them. He did have success vs. the Warriors in the Rockets' competitive loss this week, but not many teams are looking to hemorrhage assets for a player past his prime with injury issues who cannot stretch the floor or act as a playmaking big.
The Wizards have been mentioned as a theoretical choice, but Marcin Gortat has not been the source of the trouble in their defensive issues, they need a shot-blocking four. Boston is the other natural candidate as they have a. assets to spare and b. a standing relationship with Morey along with c. a strong desire to get high-caliber players. The problem is that Howard alone is not enough to fundamentally change the Celtics' chances. If Ainge can put together a set of combo moves to acquire Al Horford from Atlanta and pair him with Howard, then all of a sudden they've really got something dangerous going. But you have to be able to put Howard into a system where he can thrive, doesn't have to cover for defensive issues, and will fit in with the culture.
A deal like this along with a low-level first-round pick (AKA not the Nets pick) would have to be attractive for Ainge. 

Ainge is very focused on character, and while Howard is a fun guy who has no significant off-court problems that could impact his play, he's also a known goofball charged with not being competitive enough. That may not sit well with Ainge and "the Celtic way."  
Cleveland is another team that may come calling, just based on its desperation in trying to find star power to overcome the Warriors. Tristan Thompson, Kevin Love, Anderson Varejao's contract, all of these things have value. Meanwhile, teams like Denver are flush with assets and have a big desire to add a star. The Nuggets, in particular, have a young core but would have to re-sign Howard to justify the deal. 
That's the other key issue here. Howard's a free agent in what is going to be the biggest spending spree in NBA history. You're not just sending assets, you're sending assets for a guy who could bolt on you if you don't want to pay him over $25 million per season. 
We'll see what goes on, but at this point you can go ahead and firmly slot the Rockets into "open for business" category at the trade deadline.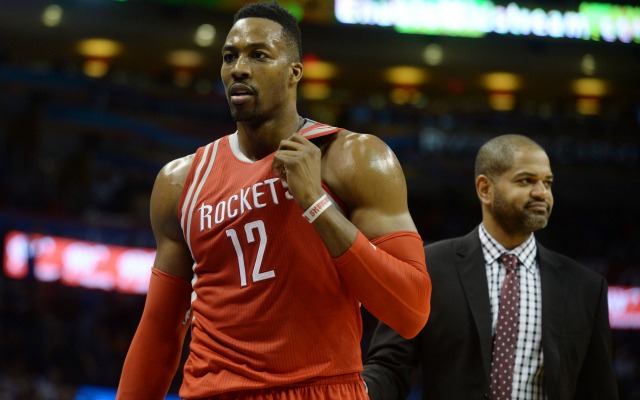 Show Comments
Hide Comments
Our Latest Stories
This sounds crazy, but it's totally plausible

This thing isn't getting any prettier for the two sides and what's coming out

Snakebitten Philadelphia sees another first-round pick with injury
The Sixers just started to get some good news before the Ben Simmons injury was announced

Bosh: 'I didn't get a call or a text or anything like that'

A budding star in Jokic, depth, trade chips -- Denver could be this year's Blazers