Report: Rudy Gay to opt in for $19.3 million year with Kings in 2014-2015
Kings forward will take the money, will continue to work with Sacramento on extension deal.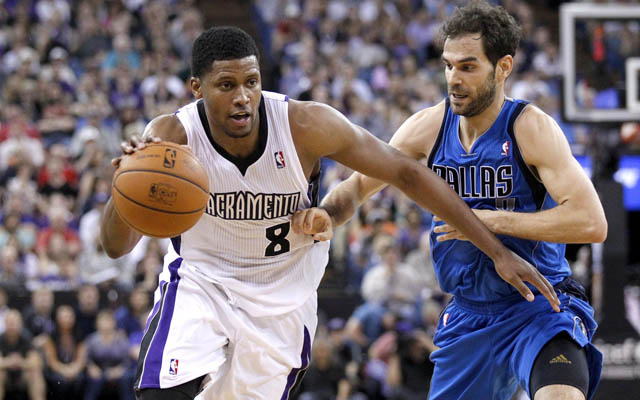 More Offseason Analysis: Coaching changes, news | Free Agency | Draft | Rumors
Yahoo Sports reports that Sacramento Kings forward Rudy Gay has informed the team he intends to opt in to his $19.3 million final season of is contract for 2014-2015.
Sacramento Kings forward Rudy Gay will exercise his $19.3 million contract option for the 2014-15 season, but has tabled extension talks until later this summer, league sources told Yahoo Sports.

The re-signing of Gay is a top priority for the Kings. Team management and Gay's agent, Alex Saratsis of Octagon, are expected to re-engage discussions in the near future, sources said.

After July 1, the Kings and Gay will be able to negotiate a full four-year contract extension. Gay has been in constant contact with Kings management, and has been impressed with new owner Vivek Ranadive's commitment to constructing a contender, sources said.

The Kings consider Gay a cornerstone of the franchise's future and prolonging the process on extension discussions gives him a chance to further evaluate the team's progress on improving the roster before he fully commits to a deal. If Gay is unable to complete an extension in the next year, he'll become an unrestricted free agent in the summer of 2015.
via Sources: Rudy Gay to exercise $19.3 million contract option - Yahoo Sports.
The Kings love Rudy Gay. They're super high on him, and think that the production he gave with them in 55 games at 20 points, 5.5 rebounds, and 3.3 assists at 48 percent shooting, a career high, is who he truly is with this team. So they could wind up committing massive amounts of money to him. 
The move for him to opt in essentially eliminates all of the Kings' cap space. They can only add to the team that went 28-54 last year (16-15 with Gay, Isaiah Thomas, and DeMarcus Cousins on the floor for 28 minutes per game) through trade. They're basically going all-in on a team that, even if you take the sample of games where those three played together, finished 28-54. 
Meanwhile, Isaiah Thomas is a free agent and may command big money on the open market.The Kings have been ambiguous about how much they're willing to commit to him.
From Sactown Royalty: 
Gay's $19.3 million eliminates any potential cap space the Kings might have, and re-signing Thomas could bring the Kings at or above the Luxury Tax line depending on the amount.  However, because Rudy's option is so large, the Kings don't really have any room to sign other Free Agents, so roster improvements will have to come largely from trades, which is why we are seeing the 8th pick being so heavily involved in trade rumors.  This Rudy news makes it clear the Kings are looking to become good sooner rather than later and as such I would be very surprised if the Kings hold on to the 8th pick.
via Report: Rudy Gay to exercise $19.3 million player option for 2014-15, stay in Sacramento - Sactown Royalty.
Will Kings owner Vivek Ranadive be willing to go into the tax in the hope this team figures it out? Is Rudy Gay the stat-stuffing machine he was last season for Sacramento? 
And what do they do with that No. 8 pick? 
Lot of questions left to be answered in Sacramento, all before the Kings decide whether to extend Gay for big money for three more seasons. 
Shaquille O'Neal certainly knows how to bring attention to himself

Warriors, who are not leaning on taxpayers for the arena, plan to pay back the fee after 30...

In a documentary short, Redick explains part of the reason he left the Clippers for the 76...
The Cavs are reportedly nearing a deal with Rose, but the Lakers will try to persuade him to...

The former NBA All-Star launched a successful second career overseas

Tom Thibodeau confirmed locking up Wiggins is the next step for Minnesota after a busy sum...