Report: Russell Westbrook could return as soon as February 20th
Thunder guard set to return from arthroscopic surgery later this month. But how will he and the Thunder adjust?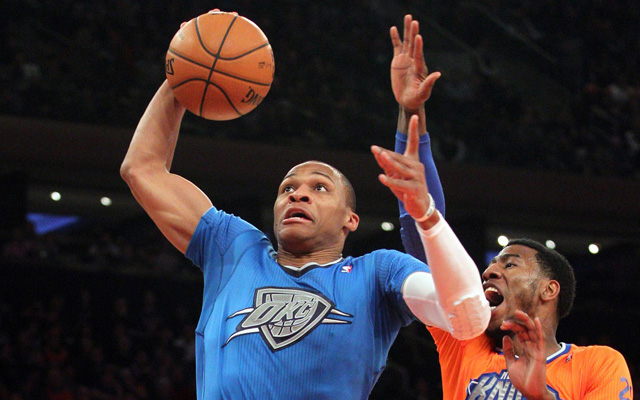 Yahoo Sports reports that Russell Westbrook has a target date "as soon as February 20th" after the All-Star Break for his return from arthroscopic surgery. 
It was Westbrook's third surgery since tearing his meniscus in a playoff series against the Rockets last spring. The Thunder always expected Westbrook to get back sooner rather than later, and will be happy to have his aggressiveness and scoring ability back on the floor. People outside Oklahoma City, however, have questions about what the re-addition of Westbrook will do to surging Thunder, who have won ten straight. 
Kevin Durant has cemented himself as the MVP frontrunner, and has put up spectacular numbers during this latest stretch. Durant's streak of 30-point-plus games ended Friday night ... because the Thunder were up by so much vs. the Nets they didn't need him. So the question people have is: Will the return of the aggressive Westbrook limit this brilliance of Durant, and will that spell frustration for KD and the Thunder? 
Here's where I come down on this: Something that gets lost while we're all watching these crazy individual performance is how much they physically take out of that person. LeBron's best statistical seasons were in Cleveland, specifically 2010. But the toll was extreme on him and made it all that much harder when defenses keyed in on him in the playoffs. The simple process of physically throwing the ball/shooting the ball/rebounding the ball takes a toll on the players and lowers their efficiencies. It's why we saw what we did in the playoffs last year when the Grizzlies put Durant through a gauntlet to slow him down. 
The Thunder supporting players are better this season, and more ready to contribute. But they still need that other guy. It's why so many one-star teams say they need that other player. The Thunder have that. He just happens to not take a backseat to Durant. As for OKC, ESPN reports they think watching how this team has evolved will change how Westbrook approaches his play when he returns. 
This spell with Westbrook out, however, has turned into a chance for growth. Durant has benefited the most because the ball has been in his hands more. Yes, he's shot it plenty and his scoring exploded. But he's also made a point to involve his teammates, as Reggie Jackson, Jeremy Lamb and, recently even Perry Jones, have showed a new capability that has the Thunder looking like a much deeper team than even they might have thought.

Westbrook was seeing this, too, even before he went down, which has the Thunder coaches excited about what he might do when he returns. They point to the final 10 games Westbrook played before he needed to have additional surgery.

After he averaged just five assists over his first 15 games of the season, it looked like it was the same old Russell who was back. But as the season wore on and he started to notice the depth on the team, he was starting to become more open-minded.

In those last 10 games, Westbrook was averaging 9.2 assists, and his shots dipped slightly. In his last game, a dominant effort on Christmas at Madison Square Garden, Westbrook had a triple-double in just 29 minutes on the floor.
via NBA: Russell Westbrook's front-row seat - ESPN.
If the Thunder can find a balance between all these elements: Durant's individual other-worldliness, the Thunder's depth, and Westbrook's ability to absolutely kill teams with his aggressiveness (without killing his own), this could be the year for OKC. Finally, the promise of the future could become the glory of the present. 
Westbrook averaged 21.3 points, six rebounds, and 7.0 assists this season for Oklahoma City in just 25 games. 
Show Comments
Hide Comments
Wall threw down a similarly impressive dunk earlier in the series

LeBron played just under 44 minutes per game in the first round against the Pacers

Markelle Fultz is No. 1, followed by Kansas' Josh Jackson and there are some new names in the...
Leslie Alexander made his way onto the floor to complain about a call

The series shifts back to Washington for a pivotal Game 5

The Celtics and Bulls meet in Boston for a pivotal Game 5