Report: Spurs interested in pursuing Marc Gasol to replace Tim Duncan
Would the Grizzlies center leave home to join the silver and black?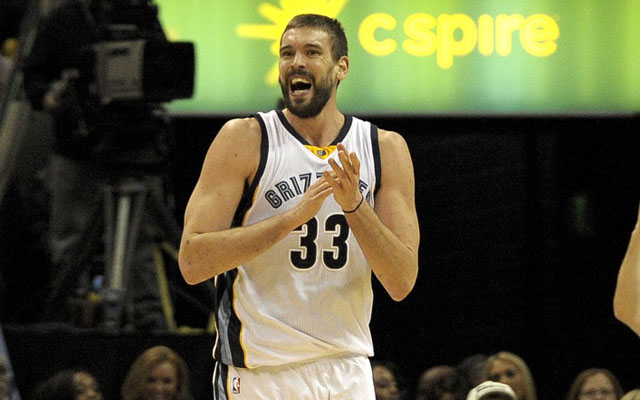 The New York Daily News reports something that has been whispered about for a while, that the San Antonio Spurs have interest in pursuing Memphis Grizzlies center Marc Gasol this summer in free agency. 
The Knicks' main free-agent target, Marc Gasol, is also being targeted as a possible replacement to Tim Duncan assuming Ol' Man Riverwalk retires this summer. The Knicks will be players for the Memphis center mainly because of the first three rules of real estate — location, location, location — and because Gasol is familiar with both Jackson and Derek Fisher since older brother Pau spent the best years of his career with the Lakers.

Otherwise, staying in Memphis will be appealing to Gasol, whose team is a legitimate championship contender. The Grizzlies can offer Gasol the most money, and he has grown to love the city, having lived there since high school when Pau broke in with the Grizzlies.
via Isola: Knicks should fear Spurs' interest in Marc Gasol - NY Daily News.
There's more than one reason to cast some doubt on this, given that first and foremost, Duncan may not retire. He postponed his decision, but he's shown no signs of slowing down, and in fact, has looked like he's enjoying the game as much as he has in a decade. Then you've got to consider that though Gasol has never been known to be the social butterfly or culturalist that his brother is (opera is a big deal to the elder Gasol), Memphis does afford him more in the way of that, with a vibrant cultural scene and dynamic culinary menu that extends well beyond barbecue. (Though there are some taco and steak joints in San Antonio that are nothing to mess with.)
Basketball is where it gets tricky. The Knicks option still seems as unlikely, as their only real assets are as follows:
1. Derek Fisher, who Marc has never played with or for.
2. Phil Jackson, who Marc has never played with or for.
3. The lure of playing in New York, which can be overblown, but is still a very real thing, as I mentioned here.
That's it. The basketball itself isn't appealing. Gasol doesn't need a lot of shots, but he likes to have it from time to time and is a brilliant passer. Hard to be that with Carmelo Anthony around. That's not a knock on Anthony, it's just a reality, he has a super-high usage rate. Playing in the Triangle might be fun, but would it be definitively better than the system in Memphis which is cutom-tailored to him and his skills?
San Antonio, however, presents everything a smart basketball player wants. A team-first attitude (which Gasol has and loves), a plethora of gifted passers and shooters (again, check), international flavor (Gasol spent his adolescence in Memphis but is still Spanish, you know?) and Gregg Popovich (the best coach he could ever play for). It's a small market, it has an established hierarchy of talent, it is always in contention, the ownership, management, and coaching staff is stable (and you can bet Popovich will re-think retirement if he gets to coach Gasol into his late 30's along with Kawhi Leonard).
That would be tempting.
But San Antonio has never made a big free-agency splash. And Memphis remains the place that Gasol is most comfortable, that developed him, that has loved him, and that has promised him the franchise.
This will continue to be a conversation as I talked about in August and again in October, but there's no real movement on it, yet. But as opposed to LA and New York, big-name options tha don't necessarily vibe with what Gasol wants or who he is, San Antonio presents him with two of the things he wants most: a sustained chance at titles, and a basketball-first atmosphere.
Show Comments
Hide Comments
Thunder fans used the term 'cupcake' in reference to Durant after he left OKC in free agen...

There appeared to be some wishful thinking on the part of Charlotte general manager Rich C...

Thompson is one of the best shooters in the league, but it appears dunking isn't his speci...
Cuban was willing to part ways with employees who leaked ahead of the official announcemen...

Draymond wasn't mad about the move, though. He was mad about the way he heard about it

All-Star forward was sent from the Bulls to the Timberwolves on draft night