Report: Steve Ballmer to buy Clippers for $2 billion
Former Microsoft CEO Steve Ballmer has reportedly won the bidding war for the Clippers.
by

Eye on Basketball staff

• 1 min read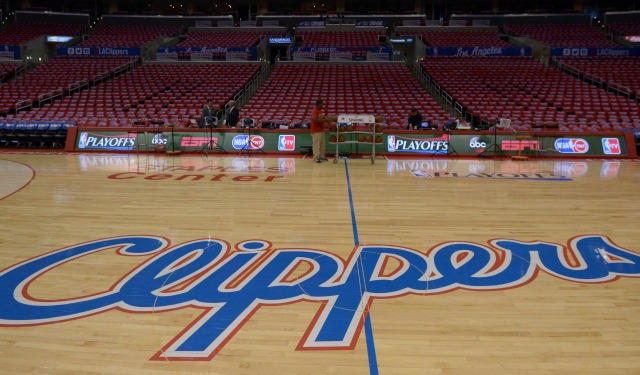 More: Sterling banned for life | Latest updates | NBA news
UPDATE: USA Today tells us the league must still approve the sale of the Clippers but Sterling does not have to sign off on the deal.
The person, who requested anonymity because he was not authorized to speak publicly, said NBA owners still must approve the sale but Donald Sterling – who last week gave his wife Shelly written authority to sell the team – does not have to sign off on the deal.

Donald Sterling's attorney has maintained that no sale can occur without his approval. Sterling and his wife each own 50 percent shares of the team.
---------------------------------------------------------------------
Steve Ballmer has won the Shelly Sterling-run bidding war for the Los Angeles Clippers, agreeing to buy the team for a record $2 billion, according to the Los Angeles Times.
Ballmer, who was chief executive of Microsoft for 14 years, was chosen over competitors that included Los Angeles-based investors Tony Ressler and Steve Karsh and a group that included David Geffen and executives from the Guggenheim Group, the Chicago-based owner of the Los Angeles Dodgers.

A person with knowledge of the negotiations said the Geffen group bid $1.6 billion and Ressler at $1.2 billion.

The sale price is almost four times the highest previous NBA franchise sale price -- the $550 million paid earlier this month for the Milwaukee Bucks. It is second only to the Dodgers 2012 sale for $2.1 billion as the highest price for any sports team in North America.
For the sale to the ex-Microsoft CEO to be official, it would need to be approved by Donald Sterling, the controlling owner of the Clippers who has been banned by the NBA for life. It would also need to be approved by the other owners.  
Donald Sterling sent a letter to the NBA authorizing Shelly to sell the team, but recently his lawyer said that he had "disavowed" that agreement, per ESPN's Ramona Shelburne. The NBA has a hearing scheduled on June 3 where the 29 other owners would vote on whether or not to terminate the Clippers' current ownership, but Sports Illustrated's Michael McCann reported that the hearing could be postponed if a satisfactory agreement to sell the team was brought to the league. 
Hayward will be in Miami this weekend, while Utah and Boston also have meetings scheduled

Sacramento signs Serbian to 3-year, $36 million contract while passing on Ben McLemore

Free agency is around the corner, which means there could be a ton of significant moves coming...
The Knicks still intend to trade Carmelo Anthony even with Phil Jackson gone

Paul George is a college football coach at heart

CP3, the Point God, is headed to Clutch City, and the NBA landscape has again flipped on its...