Report: Steve Kerr 'expects' an offer from the Knicks, would accept it
According to a report, Steve Kerr is expecting an offer from the Knicks and would accept the job if that happened.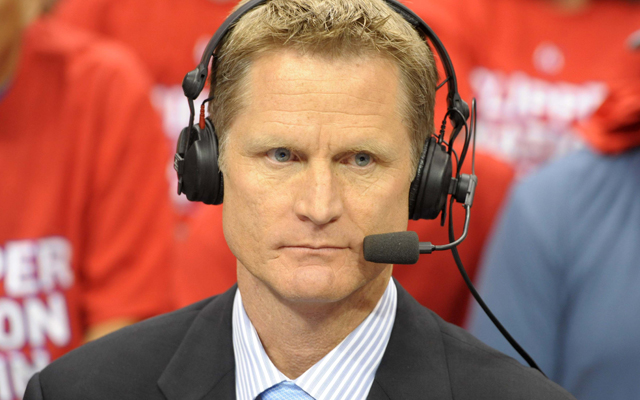 Mike Woodson, as of this posting, is still the Knicks' coach. After a miserable season of ups and mostly downs, Woodson made it through the season, but with Phil Jackson now in charge, it seems unlikely he'll be in place for next season.
The question then is, who's next? 
According to the New York Post, Steve Kerr think it's him.
Phil Jackson's first real imprint on the Knicks organization will come when he names a new head coach or stuns the basketball world by retaining Mike Woodson. Among those waiting on the news is Steve Kerr, the former player and general manager-turned-broadcaster for TNT.

According to a source close to the situation, Kerr "absolutely expects" to be offered the job. "And if he's offered the job, he's definitely going to do it," the source told The Post.

The Post has learned Kerr has had conversations with his bosses at Turner Sports about adjusting his schedule as an analyst during the upcoming playoffs should he be named the Knicks' head coach.Obviously, Kerr has no prior head coaching experience, but he has a great relationship with Jackson and with the splash (and success) Jason Kidd has had nearby, it's an interesting possibility. 
Kerr played for Jackson in Chicago for five seasons, winning three championships together.
Show Comments
Hide Comments
The Milwaukee standout took over in Boston on Wednesday

Warriors forward is candid on the hot-button issue, saying, 'It's only for like five playe...

For a fourth straight season, there will be no postseason baskeball at Madison Square Gard...
Wednesday's victory was truly a team effort

The Bucks forward praises the Celtics guard's embellishment skills

The Warriors make a statement with their impressive comeback victory in San Antonio