Report: Suns' Channing Frye to opt out, become free agent
Sweet-shooting big man Channing Frye is expected to hit free agency, but Phoenix reportedly wants him back.
• 1 min read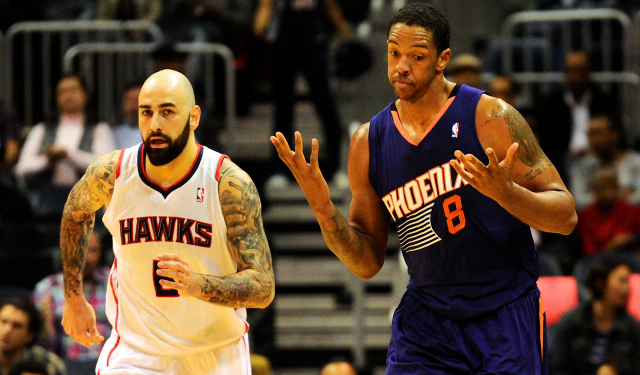 More Offseason Analysis: Coaching changes, news | Free Agency | Draft
Phoenix Suns big man Channing Frye is expected to opt out of the final year of his contract on Monday, according to Paul Coro of the Arizona Republic. He was owed $6.8 million next season, but instead will become an unrestricted free agent on July 1.
At that time, the Suns and Frye are expected to negotiate a new contract giving the 31-year-old power forward more long-term security in the city where he grew up. The Suns will not be alone in that pursuit. Other teams will value Frye's unique skill set as a big man who is a top 3-point shooter but still defends the position well.

Golden State and Cleveland could be competition for the Suns to keep Frye. New Golden State coach Steve Kerr is the one who brought Frye to Phoenix in 2009 as the Suns general manager and his then-assistant Suns GM, David Griffin, now is the GM in Cleveland. It was a breakthrough season for Frye after being sparsely used in Portland and validated Kerr's value of a shooting big man to create spacing in an offense.
Frye was excellent last season, starting in all 82 games for Phoenix and averaging 11.1 points and 5.1 rebounds per game. He missed the 2012-2013 season due to an enlarged heart, but came back stronger than anyone expected, teaming with point guards Goran Dragic and Eric Bledsoe to make the Suns one of the deadliest pick-and-pop teams in the league.
Frye will be a valuable commodity for teams looking for floor spacing, but at 31 years old this might be his last multi-year contract. While opting out means it's possible that he won't make as much salary as he would have next season, he would make it up with a long-term deal.
Show Comments
Hide Comments
The Bulls great doesn't think Jordan/LeBron comparisons are fair because their roles are so...

The lawsuit stems from McGee's time in Dallas

Hammond had served as Bucks GM since 2008
Brown has played crucial minutes for Boston guarding LeBron James in the Eastern Conference...

The Cavs have had a much tougher time in the two games the Celtics have been without Isaiah...

Jackson left Duke after one season and signed with an agent, forfeiting his option to return...