Report: Suns interested in Al Jefferson, Gordon Hayward
Suns reportedly are in pursuit of Utah's Al Jefferson and/or Gordon Hayward.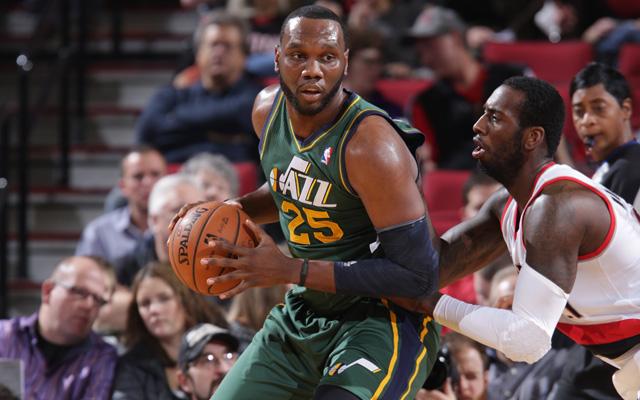 Could Jefferson become a Sun?
(Getty Images)
The Suns seem to have realized that their plan coming into the season was a total disaster. When canning qualified head coach Alvin Gentry didn't suddenly, magically turn the season around, the trade rumors started. First they were linked to a potential deal involving Iman Shumpert headed to Phoenix for Jared Dudley. 
Now the Arizona Republic reports that the team is interested in pursuing two of the Jazz' better players, Al Jefferson and Gordon Hayward:
The Suns also have shown interest in a bigger splash for Utah's Al Jefferson or Gordon Hayward. Dudley could be a part of either of those deals with center Marcin Gortat likely needed to make one work for Jefferson, a 28-year-old power forward who makes $14 million and is averaging 17.4 points and 9.5 rebounds. Hayward, a 22-year-old swingman, is averaging 13.5 points in a reserve role.

"We all realize this is a business," Suns interim head coach Lindsey Hunter said. "I was a player once, and I was traded a couple times. It's nothing personal. It's just business, and I think guys understand that now."
(via Reports of deadline deals swirl about Phoenix Suns)
Gortat has been unhappy all season, but would the Jazz want a player on a contract that would necessitate starting him in front of Enes Kanter? If the Jazz move Paul Millsap or Jefferson, it's to make room for Derrick Favors and Kanter. Adding Gortat is a talent drop and doesn't solve their logjam. 
Meanwhile, the Jazz have been notoriously high on Hayward, and moving him seems unlikely. While the versatile forward seems to have plateaued a bit with his development, there's no reason to think the Jazz will part with him for veteran downgrades, even with some monetary savings. 
So on the surface, a deal doesn't look like it makes sense, but two things to remember here: 1. The Suns haven't really shown themselves to be rational actors lately. (Cough, Michael Beasley, $18 million over three years, cough.) 2. A third team could pull a deal together nicely. 
Maybe the bigger takeaway from this, though, is that the Suns don't seem intent on hoarding Dudley the way, say, the Magic are resisting moving J.J. Redick. He's on the block and available for any team that wants a sharpshooting veteran defender. If you need a trade partner, the Suns are at your disposal. 
Jared Sullinger wants back in the NBA; he knows his weight will play an important part

Cleveland is one of Rose's biggest suitors, and the Irving situation could lead to an even...

Five years later and Celtics fans continue to throw shade -- Allen later deleted the comme...
Irving has a desire to team up with Butler dating back to June

Apparently, Irving first asked to be traded in June in hopes of joining Jimmy Butler in Ch...

Despite Melo being a good trade piece for the Knicks on paper, he has his sights set on joining...