Report: Suns make Eric Bledsoe-Kevin Love trade offer at last minute
Just before the Wolves are expected to trade Kevin Love to Cleveland, Phoenix reached out about the possibility of swapping Eric Bledsoe for him.
• 1 min read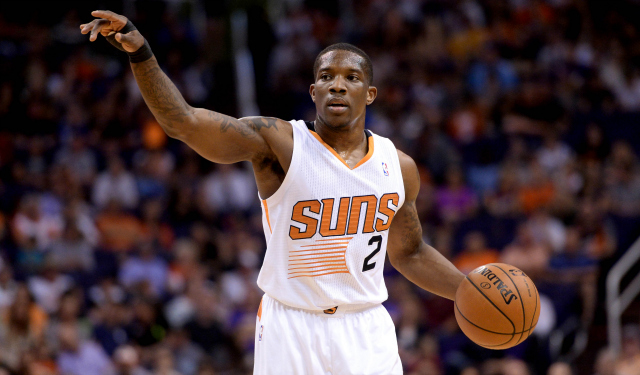 Just one day before the agreed-to blockbuster that would send Kevin Love to the Cleveland Cavaliers can be completed, the Phoenix Suns have reportedly made a call about the superstar power forward. Restricted free agent guard Eric Bledsoe is the primary piece being offered here, according to ESPN.com's Ramona Shelburne and Brian Windhorst. 
Talks between the Suns and Bledsoe, who is a restricted free agent, have been fractured for weeks and the team is now vetting all options. That includes other sign-and-trade talks with other teams besides the Wolves.

Bledsoe has made it clear he is seeking a five-year, $85 million maximum contract from the Suns. He would only consider a max deal in a sign-and-trade, which would be four years and $64 million, with any other team, sources said.

If Bledsoe, who has remained firm in his salary position all summer, does not get a max deal this summer, he intends to sign the Suns' one-year qualifying offer for $3.7 million and become an unrestricted free agent next year.
So let's get this straight: Andrew Wiggins and Anthony Bennett, the last two No. 1 overall draft picks, are set to be traded to Minnesota on Saturday. On Friday, Phoenix is trying to get out of a standstill with its restricted free agent and land a top-five player at the same time. This would require Wolves president and coach Flip Saunders backing out of a deal that the whole NBA world knows about. Got it.
This isn't the first time the Suns and Bledsoe have been linked to Love, and there's not really any downside to general manager Ryan McDonough placing a call. It just seems way too late for a hail-mary play like this to work.
Phoenix has offered Bledsoe a reported four-year, $48 million deal.
Show Comments
Hide Comments
What does a first-round sweep mean for PG13's future in Indiana?

Celtics reverse course in Chicago; Pacers head home

Our NBA experts predict the first round of the postseason
Can the Clippers close the series without Blake Griffin?

The playoffs are starting to heat up

The Cavs are the first team to move on to the next round