Report: Suns trade Marcin Gortat to Wizards for Emeka Okafor
The Suns have reportedly agreed to trade Marcin Gortat, Shannon Brown and Kendall Marshall to the Washington Wizards in exchange for Emeka Okafor.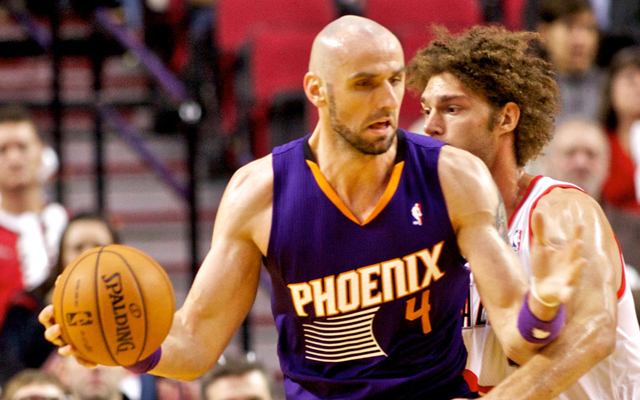 ESPN reports the Suns have agreed on a trade sending Marcin Gortat to the Wizards for Emeka Okafor. 
Hearing: Suns are trading Marcin Gortat to the Wizards. Okafor on his way to Phoenix. More details to come

— Marc Stein (@ESPNSteinLine) October 25, 2013
Proposed deal will send Gortat, Shannon Brown and Kendall Marshall to Wizards and Suns on course to receive Emeka Okafor & at least one pick

— Marc Stein (@ESPNSteinLine) October 25, 2013
Translation: The Washington Wizards are not screwing around.
The Wizards are hellbent on making the playoffs, and that objective was compromised when Emeka Okafor went down with a herniated disck in his neck. He's out indefinitely. This puts them right back into the playoff race and can arguably be considered an upgrade over Okafor. The pick is reportedly a first-round pick in next year's loaded draft, protected through No. 12. 
Phoenix gets Wizards pick in 2014 -- which is protected to No. 12.

— Jeff Goodman (@GoodmanESPN) October 25, 2013
For the Suns, their intention is clear. Focus on young talent, clear more salary space, and focus on next June's draft. Lock them into the No. 2 spot in the lottery right now. That also moves them into an even better position than the Sixers after Philadelphia traded Jrue Holiday for Nerlens Noel and a protected 2014 pick from the Pelicans. The Suns arleady have a lotto-protected pick from the Pacers and a top-13 protected pick from Minnesota. The Wizards are likely to be just better than that No. 12 spot and just low enough to still hit in the top 15. In a loaded draft, that's terrific value. 
Okafor is scheduled to make over $14 million according to ShamSports.com, but is an expiring contract. Gortat is also an expiring at just over $7.7 million this season. 
Gortat said earlier this month that he was fine with being on the trade block. No surprise, given Phoenix's struggles after the trade of Steve Nash in 2012. 
Multiple sources including NBA.com report the Wizards will waive Marshall and Brown. Brown won't have a hard time finding somewhere to land. He's got his drawbacks but is decent second or third guard. Marshall will likely have a much harder time, as he just doesn't have the athleticism or outstanding skill to play minutes at his point in his career. 
Show Comments
Hide Comments
The OKC star exits in 4-1 series loss to Houston after one of the most remarkable individual...

How to watch the first-round series between San Antonio and Memphis

The playoffs are getting interesting
The Cavs and Warriors have both swept their first-round opponents

Les Alexander appeared to complain to a referee in the middle of live play

Houston has a 3-1 lead. Here's how to watch the rest of the series