Report: Thanasis Antetokounmpo going to D-League or Europe
Knicks draftee Thanasis Antetokounmpo will reportedly not play in the NBA this coming season.
• 1 min read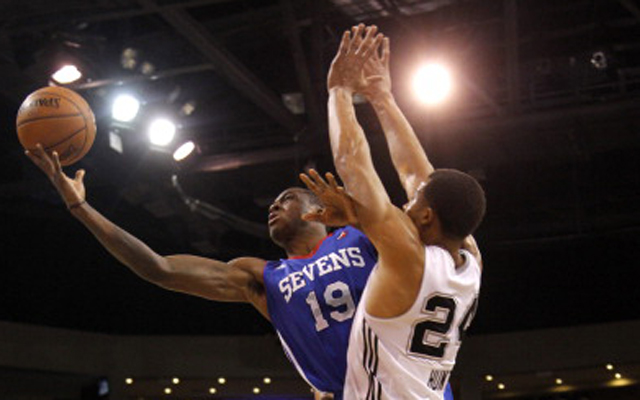 Offseason: Free Agency | Latest from Ken Berger | Rumors
New York Knicks draftee Thanasis Antetokounmpo will not play in the NBA next season, according to RealGM's Shams Charania.
Thanasis Antetokounmpo, New York's pick, deciding between D-League Westchester or Spain/Italy deal, sources tell RealGM. Knicks roster full.

— Shams Charania (@ShamsCharania) August 7, 2014
If there was any chance New York would create another roster spot, it disappeared with the deal that brought in Quincy Acy and Travis Outlaw. When the Knicks used the No. 51 pick on the 6-foot-6 swingman, the brother of Milwaukee Bucks forward Giannis Antetokounmpo, it didn't seem likely he'd come to the league right away. He has plenty of potential, but New York is trying to push for a playoff spot.
Antetokounmpo faces a common conundrum for fringe NBA players: he can go to Europe and get paid a much higher salary, or he can stay close to the NBA game. Most players in his position would choose the former, but Knicks team might prefer him to be with its D-League affiliate in Westchester. That could be ideal for New York in terms of monitoring his development, but he'd probably get better experience if he goes to a good team in Spain or Italy. 
Last year with the Delaware 87ers, Antetokounmpo averaged 12 points, four rebounds and two assists per game, shooting 47 percent from the field and 31 percent from behind the 3-point line. 
The 24-year-old swingman will become an unrestricted free agent

The youngster hit Oladipo with a nutmeg during a one-on-one game at Oladipo's camp

The Cavs will be looking to upgrade their squad after their Finals loss to the stacked War...
Denver is reportedly also in talks on a three-team trade that would send them Kevin Love

Barclays Center hosted the BIG3's inaugural slate of games on Sunday, with The Answer as a...

Pierce was drafted 10th overall by the Celtics in the 1998 NBA Draft