Report: The Cavs are a flaming mess
Luol Deng is reportedly disgusted with unprofessionalism, Dion Waiters reportedly kicked out practice.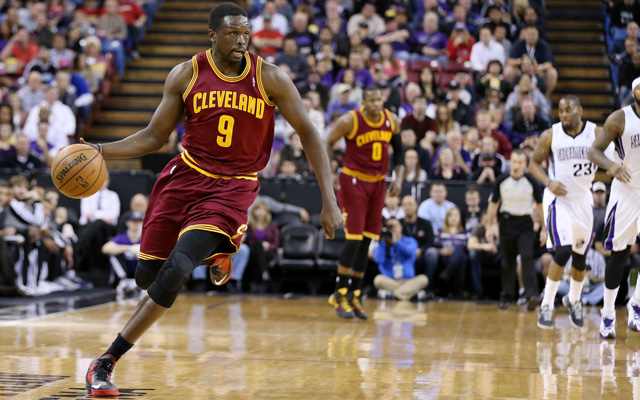 The New York Daily News reports of more strife in the Cavs' locker room.  This time, its newly acquired small forward Luol Deng outraged with the unprofessionalism and chaos internally, and that guard/forward Dion Waiters was recently kicked out of practice. 
As Deng recently told one close friend, "the stuff going on in practice would never be tolerated by the coaching staff or the front office back in Chicago. It's a mess."

Deng was brought in to help clean it up when he arrived in a deal for Andrew Bynum on Jan. 7. But since then, he's seen players get thrown out of practice, take off their uniform tops at halftime and threaten not to play, mouth off to Brown and generally act like spoiled brats. Entering Saturday's game at Houston, the Cavs had lost seven of their last 11 games since the Deng trade.

There is no accountability, as Dion Waiters found out when he was kicked out of practice last week but still got his usual minutes against the Knicks. Brown isn't getting much help from GM Chris Grant, who is expected to be fired at season's end because of the losing and problems in the locker room.
via Veteran Luol Deng not happy about being traded into mess that is Cleveland Cavaliers - NY Daily News.
To start with, these reports are often exaggerations told third-hand. Is it likely something-of-the-sort did happen with Waiters and that Deng likely is not thrilled with what he's gotten himself into? Yes. It is as dramatic as it's often made out to be in print? Probably not. Don't blame the reporter, if he's got a source with trustworthy information, you have to go with it. But it's also probably not Lord of the Flies in there like it's described. 
However, there's smoke here. This week, word surfaced of Kyrie Irving's unhappiness with the Cavs. Irving later told reporters he's happy in Cleveland. Earlier this season there was some sort of confrontation at halftime involving Dion Waiters and Tristan Thompson. There have been problems with attitude from someone or someones in there all year. If there's a bunch of black smoke and it smells like burning, it's kind of hard to just say, "Aw, that's just a New York reporter stirring up trouble" and leave it at that. 
The Cavs are in a tailspin, their GM is yelling publicly about accountability, and now this. A few wins and this will all quiet down. But their altitude is dropping, they lost engine No.2 and they're out of parachutes. Something's gotta get the nose up fast or gravity's going to do its thing.
For whatever it's worth, here's what Deng said Saturday morning. 
Deng: "I don't get the vibe that anyone has given up on Coach, I just think we're not playing as a unit."

— Jason Lloyd (@JasonLloydABJ) February 1, 2014
Show Comments
Hide Comments
Our Latest Stories
In another shootout, the Washington got the best of LeBron James and co.

It doesn't, however, sound like he's looking for an official role

This isn't what you'd call peaking at the right time as Utah have lost four of its last fi...
Golden State is hoping to get Durant back before the end of the regular season

Shaquille O'Neal wishes his resume was a little bit stronger

The Philadelphia big man said it went 'better than expected'