Report: The Nets are targeting Kevin Durant in 2016
Brooklyn reportedly making Thunder MVP candidate their No.1 priority.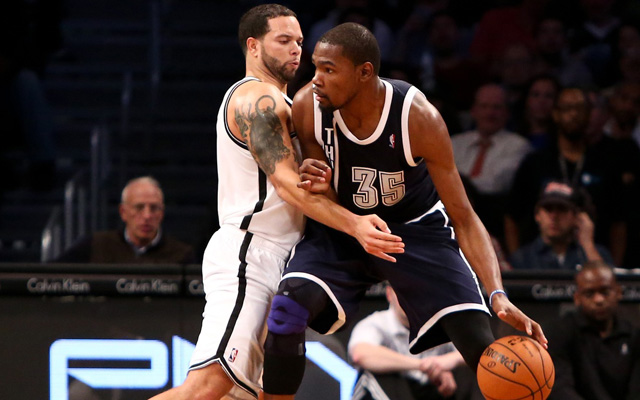 The New York Daily News reports that the Brooklyn Nets' new big super scheme is to snag Kevin Durant when he becomes a free agent in 2016. From the Daily News: 
On Friday , the Nets will chase Kevin Durant around the Barclays Center court, hoping to contain the NBA's most dynamic scorer. And some two years from now, they likely will be joining the crucial chase for his signature on a contract.

The impending Durant free agency bonanza should start picking up steam next season and will undoubtedly engulf the NBA in the summer of 2016. And make no mistake: the Nets are targeting Durant, the 25-year-old offensive juggernaut, even if it's too early to predict their odds.
via Kevin Durant and Oklahoma City Thunder visit Brooklyn Friday, and Nets will be chasing his services in 2017 - NY Daily News.
Durant's extension with the Thunder he signed three years ago expires July 1st, 2016 and barring an extension (which under the CBA he has no inctentive to take as it limits both his salary and number of years), Durant will be an unrestricted free agent, the biggest since... well, let us get back to you after LeBron figures out what he's doing this summer. 
Anyway, so this seems pretty obvious, right? "Team with lots of money plans to try and sign what will likely be the best player on the planet at that point (factoring age for LeBron James)." Not exactly the biggest headline. 
But there are reasons to take note here. First off, if the Nets want to make a serious run at Durant, they have to keep their cap space clear. They've already cleared the books, the only money they have on for 2016 is Deron Williams, and that's only if he opts in to the $22 milllion final year of his deal. (Spoiler alert: Williams will be 32 years old. He's picking up that option.) 
So they have the money, but that means they'll have to keep it. So if this run with the current Net tails out like it certainly looks like it will, Brooklyn will have to go Mark Cuban's route, signing guys to short-term deals in an effort to maintain space. It means the Nets will have to show... wait for it... restraint in deals and free agency. That's like putting an addict in a room full of his fix or two years and saying "don't touch." Those guys love to spend money. They're basically the basketball equivalent of Scrooge McDuck. 
Second, it's a piece of the puzzle for Durant. Durant has been the humble star in smalltown America (not really, Norman-OKC is fairly big but that's the perception) for his entire career and it's part of why he's so beloved. But now you have one of the wealthiest franchises on the world's biggest stage wanting to make him their icon. If Durant can't win a title in OKC with smart management and careful team building, isn't the lure of a franchise that will simply spend whatever to put talent around him going to be alluring? 
It's too early for this talk to start, I agree. But if you want to try and see the vague shapes that lie in the league's future, you have to start and end the conversation with Durant's decision coming up in 2016. 
Show Comments
Hide Comments
Will the Celtics, Jazz and Wizards all advance Friday night?

The Spurs and Raptors are the latest to move on from the opening round

Our NBA experts predict the first round of the playoffs
Our experts predict every series in the 2017 NBA playoffs

The Raptors do enough to get past the Bucks in the opening round of the playoffs

San Antonio ousts Memphis in their first-round series in six games