Report: Thunder are 'optimistic' Westbrook returns against Heat
The Thunder are reportedly confident that Russell Westbrook will return from injury on Feb. 20 against the Heat.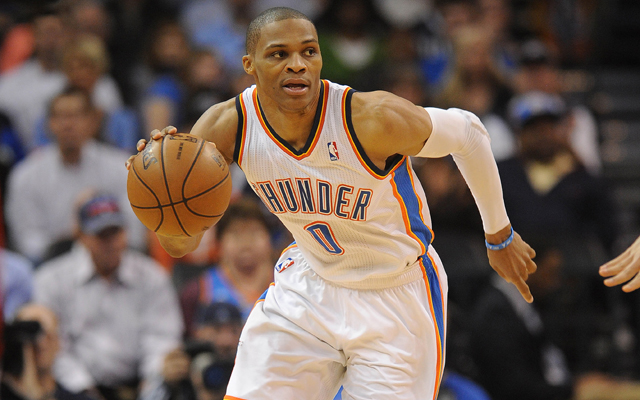 Russell Westbrook's original timetable following his second arthroscopic procedure was sometime after the All-Star break. And we're really close to sometime after the All-Star break.
The Thunder's first game post-break is against the Heat on Feb. 20, and according to Yahoo Sports, the team is "optimistic" Westbrook will be ready for that game.
The Oklahoma City Thunder are hopeful that injured guard Russell Westbrook will return for Thursday's game against the Miami Heat, a source to Yahoo Sports.

The Thunder announced on Dec. 27 that Westbrook had surgery on his right knee for the second time since late October. He was projected to be out until after the NBA All-Star break without a specific return game. The source said Westbrook will be re-evaluated on Tuesday in Oklahoma City, which could open the door for a return against the visiting Heat.
That would be fun.
There has been some talk about Westbrook maybe waiting until a little, let's say, less intense game, but the Thunder obviously aren't going to clear him to play unless he's entirely ready. So whether it be the Heat or not, the Thunder will only give the go ahead to Westbrook when he's completely healthy, and when he can play without restriction.
Westbrook has been out since Dec. 26 and without him, the team has found a strong balance behind Kevin Durant, going 22-8 and taking a commanding lead in the Western Conference.
Kyrie is reportedly open to leaving Cleveland, and New York is among his top choices to be...

It appears Wall will be staying in Washington for a long time

Apparently James wasn't aware that Kyrie was considering a change of scenery
The Knicks reportedly have interest in the Cavs star, but do not want to give up their uni...

The Knicks, Spurs, Timberwolves and Heat are reportedly his preferred teams

Altman has been serving as the Cavs' assistant general manager under David Griffin