Report: Tracy McGrady 'finalizing' contract with Qingdao in China
Free agent forward Tracy McGrady is reportedly "finalizing" a one-year contract to play for Qingdao of the Chinese Basketball Association.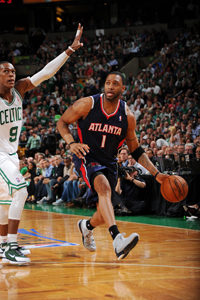 Tracy McGrady could be headed to China.
(Getty Images)
The New York Knicks finally decided to let someone else get their hands on a 30+ year old player with a mostly empty tank.
Veteran forward Tracy McGrady is "finalizing" a one-year contract with Chinese club Qingdao, according to Yahoo Sports.
McGrady, 33, will likely complete the deal within the next couple days and leave for China within the next one to two weeks, sources said.

McGrady worked out for the San Antonio Spurs and New York Knicks in the past month, but neither franchise had a roster spot to commit to him.
A report linking McGrady to China surfaced last week.
Qingdao would mark McGrady's fifth club in four seasons, as he's bounced around from the Houston Rockets, to the Knicks, to the Detroit Pistons, to the Atlanta Hawks, where he averaged 5.3 points, 3.0 rebounds and 2.1 assists in 16.1 minutes per game off the bench last season. McGrady's career has been in a harsh downward slide after knee surgery robbed him of the elite athleticism that made him an All-Star in seven consecutive seasons from 2001 to 2007. 
As we were reminded last season, signing in China for the season and catching on with a playoff team are not necessarily mutually exclusive. A la Kenyon Martin and J.R. Smith, McGrady could conceivably return to the NBA following the CBA's season in time to provide depth for a contender.
The sad question, though: Will anyone bother? 
Show Comments
Hide Comments
Golden State swept the series, 4-0

Looking to complete the sweep, the Warriors came out on fire against the Blazers

How to watch the first-round series between Washington and Atlanta
Toronto can build on what it has started by going all-in on versatility and spacing

How to watch the first-round series between the Raptors and Bucks