Report: Tyrone Corbin to interview for Kings assistant job
Former Jazz coach Tyrone Corbin could be on Mike Malone's staff in Sacramento next season.
• 1 min read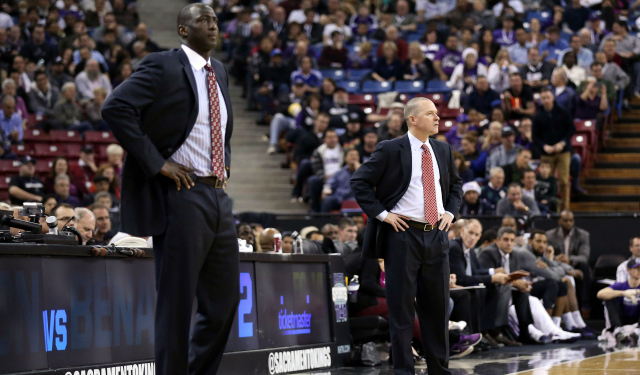 More Offseason Analysis: Coaching changes, news | Free Agency | Draft
UPDATE: Tyrone Corbin has also received interest from the Golden State Warriors and Houston Rockets as an assistant coach, according to Yahoo Sports' Marc Spears. Steve Kerr needs to hire a staff in Golden State, and the Rockets lost Kelvin Sampson to the University of Houston.
---
Tyrone Corbin is expected to interview with the Sacramento Kings about an assistant-coaching job, according to Yahoo Sports' Marc Spears. Corbin had served as the head coach of the Utah Jazz since Jerry Sloan resigned in February 2011, but the organization elected not to offer him a new contract at the end of the regular season. 
The Kings are in the early stages of the process to find a lead assistant for head coach Mike Malone, according to Yahoo Sports, and they are interested in Corbin, according to Jody Genessy of the Deseret News.
Mike Malone's father, Brendan, was meant to be the lead assistant this year, but he left the team right before the start of the regular season. "I'm going to bring somebody in and fill that void my father created," Malone told the Sacramento Bee's Jason Jones in a recent interview.
Corbin spent 10 years on Utah's coaching staff, including his tenure as a head coach. He played for Sacramento in 1995-1996 and 1999-2000. His name hasn't been linked to any of the vacant head-coaching positions, so it would make sense for Corbin to return to an assistant-coaching role.
Show Comments
Hide Comments
It's tough getting dealt away from a contender, but the big man is embracing the move

The Warriors and Nuggets will travel to Canada to take on the Raptors in the preseason

Injuries all over New Orleans slowed The Brow's progress. Now he gets another crack
Miami star wants back on the court, but will team allow him to return?

The big man wishes he'd gotten his diploma

Celtics forward Jonas Jerebko purchases squad for Dota 2, LoL, and Overwatch play.