Report: Udonis Haslem opts out to help Heat gain flexibility
Heat forward will give the team more flexibility and himself more stability long-term by opting out.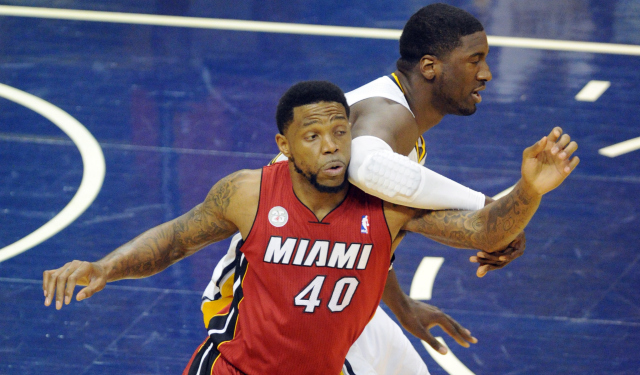 More Offseason Analysis: Coaching changes, news | Free Agency | Draft | Rumors
Earlier this month, the Miami Herald reported that Udonis Haslem planned to opt in for the last year of his contract at $4.62 million for next season. But that was before everything that happened in the Finals and with the Heat finding themselves in a competitive environment to retain LeBron James and get back to a championship level. Bleacher Report reports that Haslem has opted out and will be a free agent on Tuesday, but that the move is to help the Heat gain flexibility to improve. 
Udonis Haslem has opted out of his contract

— Ethan J. Skolnick (@EthanJSkolnick) June 28, 2014
Haslem, Bosh, Wade all have same representation. So, yes, plans are in concert. Freeing up money for Riley to work.

— Ethan J. Skolnick (@EthanJSkolnick) June 28, 2014
And to be very clear, Haslem is doing this to benefit the Heat (and get a little security), not to leave the Heat.

— Ethan J. Skolnick (@EthanJSkolnick) June 28, 2014
Haslem, so long a big part of the Heat's culture and on-court approach, completely faded from the rotation last year. He averaged just 3.8 points and 3.4 rebounds last season in just 46 games, then appeared in just six playoff games, averaging 10.6 minutes.
In previous years, he was the tough difference maker that Erik Spoelstra turned to when all other options in the frontcourt failed. But now he's mostly a figure kept for locker room presence and "in case of emergency, break glass" status. But he means more for Miami than to any other team, and he's been with the Heat his entire career. So he's a free agent come July 1, but should be back in the red and black very soon. 
It appears Wall will be staying in Washington for a long time

Apparently James wasn't aware that Kyrie was considering a change of scenery

The Knicks reportedly have interest in the Cavs star, but do not want to give up their uni...
The Knicks, Spurs, Timberwolves and Heat are reportedly his preferred teams

Altman has been serving as the Cavs' assistant general manager under David Griffin

It was a calm Friday in the NBA world ... and then it wasn't