Report: USA Basketball building new $350 million headquarters in Tempe
USA Basketball is reportedly building a new $350 million headquarters in Tempe, Arizona.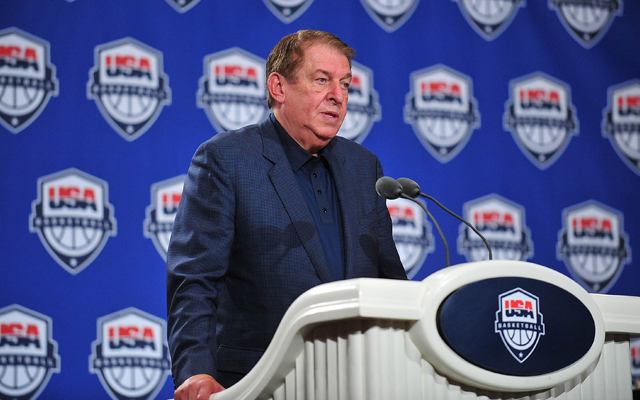 For years, USA Basketball has been run out of Colorado Springs, but that's set to change. USA Today reports a massive new $350 million complex is set to be built to house the team in Tempe, Arizona. 
USA Basketball's $350 millon project includes headquarters, training center, 4,500-seat arena, hotel, conference center, apartments, retail.

— Jeff Zillgitt (@JeffZillgitt) July 31, 2013
The move is expected to occur in 2015, and will not affect the men's national team holding camps in Las Vegas. Turns out it's a lot easier to get guys to go to Vegas in July than Tempe. The stadium seats are for exhibitions featuring the junior and women's teams. 
It's another step in President Jerry Colangelo's move to build the organization as a full-fledged brand, from its relationship with corporate sponsors to instituting a culture around head coach Mike Krzyzewski. From NBA.com: 
The Nike relationship with the NBA had fallen apart," Colangelo said. "But I had a lot of relationships there myself. Phil Knight was a partner of mine in the baseball team in Arizona. I've known Phil Knight for so many years. Coach [George] Raveling [currently Nike's Director of International Basketball], dear friend of mine for many, many years. So the relationships were there. And it was a matter of re-establishing a relationship. But I wanted to make it clear to them, this wasn't an NBA deal. This was USA Basketball. This is our own entity and brand. And that kind of opened the door."

By 2012, according to Forbes, USA Basketball had a who's who of corporate sponsors, including 24 Hour Fitness, American Express, Burger King, Cisco, Dr. Pepper Snapple Group, Gatorade, Jeep, Las Vegas Events, MetroPCS and Right Guard. But Nike was the gateway company.

"We put together some really good partnerships," Colangelo said Sunday. "We have some heavyweights. And we have some pending that are new. Nike has stepped up not only for this quad, but they've extended through two other quads, going all the way to '24.

"Here's the key. I set out to create our own brand. And we've done that."
via With talent pipeline full, USA Basketball turnaround is complete | NBA.com.
For an entity primarily built around the Olympics, that has dominated in such indescribable terms for the past thirty years, it's amazing to see what vision can bring to such an organization. The new headquarters is just a further extension. 
Also, imagine how cool it would be to answer "Where do you live?" with "Team USA Headquarters." Nice perk. 
Show Comments
Hide Comments
How do the Cavaliers flip the script for a second straight year?

Boston lacks the size, rebounding and rim protection necessary to take on bigger lineups

What happens when the Death Lineup comes in? Can Kyle Korver keep it up?
Fox is widely considered a top 10 prospect in the NBA Draft

This looks strikingly familiar, huh?

A very familiar Finals showdown is set to begin on June 1