Report: Utah begins talks with Jerry Sloan for return to Jazz
The Jazz have reportedly talked to Jerry Sloan about returning to the team in some capacity.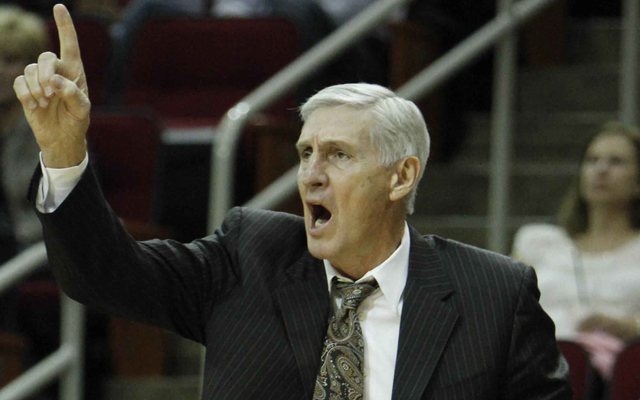 Jerry Sloan defined Jazz basketball for two and a half decades. His departure in 2011 was a shock to Utah's system. Since then, Sloan has gotten rid of his tractor and interviewed for a number of jobs without finding a good fit. Now the Deseret News in Salt Lake City reports that a return to Utah could be in the works for Sloan:
The Utah Jazz have had a preliminary discussion with Sloan about returning to the fold in an unspecified position.

Twenty-eight months after resigning from being the Jazz's head coach, the Hall of Famer is open to considering taking a role with his old organization to help the rebuilding franchise and his successor, Tyrone Corbin.

"That's up to (them). That's a situation that's strictly up to Ty or somebody in the Jazz organization," Sloan told the Deseret News. "If they want me around, fine. If they don't, (fine). They'd talked to me a little bit about it a little bit earlier."
via Utah Jazz have talked to Jerry Sloan about coming back to the organization | Deseret News.
Bringing Sloan back in any capacity would cast a pretty big shadow over Ty Corbin. The fans would certainly embrace the idea, but it creates an odd dynamic for the players and staff. 
But on the other hand, Sloan is absolutely the most qualified guy to help get the organization back where it needs to go. He had problems with the attitudes of the team in 2011, but most of those problems are going or gone. Maybe it's time for Sloan to return to his basketball home. 
HT: PBT
Show Comments
Hide Comments
You play who's in front of you, and that's what Golden State did -- and beat everyone it f...

This is the first sweep the Spurs have suffered since 2010

Pop doesn't know whether Manu Ginobili will retire, but he wanted to give him a proper salute...
San Antonio doesn't know what will happen with Manu Ginobili and Patty Mills this summer

Our experts predict every series in the 2017 NBA playoffs

Check back here for all of the conference finals results from the NBA playoffs