Report: Warriors and Cavaliers join Suns as suitors for Channing Frye
Veteran stretch four receiving interest from teams with wide-open, shooter-centric teams.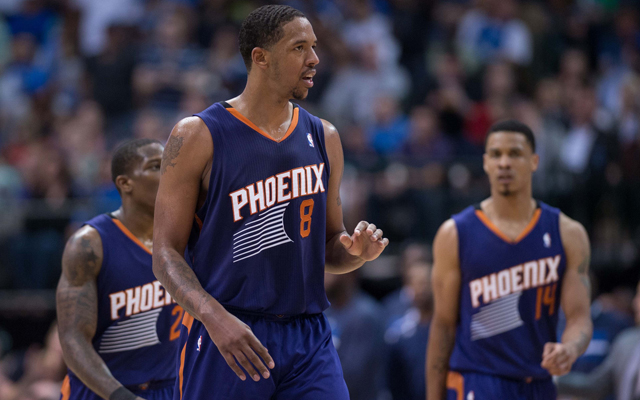 More Offseason Analysis: Updating Free Agency news | Top 40 free agents
Yahoo Sports reports that while the Phoenix Suns are pushing to re-sign long-time stretch four Channing Frye, there is also interest from the Golden State Warriors and Cleveland Cavaliers.
Suns pushing to re-sign Channing Frye, sources tell Yahoo. After opting-out of deal, Frye's surveying market, including Cavs, Warriors.

— Adrian Wojnarowski (@WojYahooNBA) July 1, 2014
A look at the options:
Suns: He has been there forever, through good times and bad, and is a natural fit with the roster. He was tremendous last season stretching the floor, something they need with the kind of centers they have and their need for spacing. Phoenix needs a few veterans to keep the locker room from getting too young, and Frye provides that. Not his best chance to win title, though. 
Warriors: A really interesting fit. Behind David Lee, could do real damage as a stretch four. But with Draymond Green effectively playing combo-forward for long stretches, would that impact Frye's minutes? Steve Kerr knows Frye an has a good relationship with him. That could help smooth things over. His best chance to contend. 
Cavaliers: A similar situation to what he's got in Phoenix, but with more questions. David Blatt's planned wide-open offense could be a lure, but will it be better than Phoenix's? And the Cavaliers have Tristan Thompson and Anthony Bennett. Could there be a positonal crunch there? If the money's the same, Phoenix is a better bet. 
Don't be surprised if a few contenders worm their way into the conversation. 
The point guard's unhappiness reportedly helped lead to his eventual trade request

Even Floyd Mayweather weighs in on the war of words between the two stars

The three-team deal would have also shipped Kevin Love to Denver
Ball wasn't happy about a foul call, swore at a referee and took his team off the floor

Jared Sullinger wants back in the NBA; he knows his weight will play an important part

Cleveland is one of Rose's biggest suitors, and the Irving situation could lead to an even...