Report: Warriors and Wolves at an impasse for a Kevin Love trade
The Golden State Warriors and Minnesota Timberwolves are reportedly at an impasse on a trade for Kevin Love.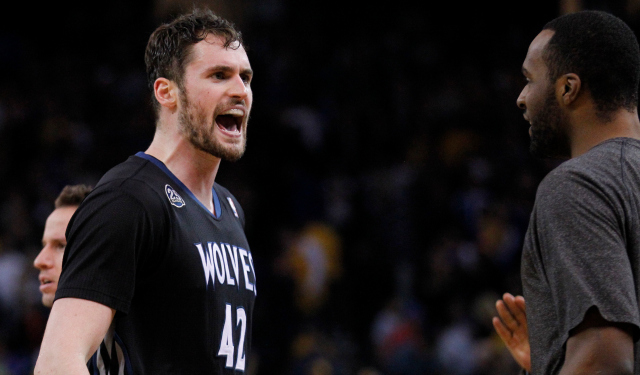 More Offseason Analysis: Coaching changes, news | Free Agency | Draft | Rumors
The Summer of Love in which the Minnesota Timberwolves try to maximize trading All-NBA power forward Kevin Love to avoid losing him for nothing next summer is well under way. We had rumors this past week that the Golden State Warriors were willing to part with Klay Thompson in a move for Love, but those talks have reportedly come to an impasse as the negotiating through the media really starts heating up.
Marc Stein and Ramona Shelburne of ESPN.com are reporting the Warriors and Wolves have cooled on their trade talks with the Wolves demanding the Warriors also take Kevin Martin and his contract in a trade while also parting with Thompson and a first round pick. It could be the end of talks for now as the Wolves negotiate with multiple suitors for Love.
The Golden State Warriors have hit an impasse in their trade pursuit of All-Star forward Kevin Love due to what is being described as an "organizational split" on the willingness to part with prized shooting guard Klay Thompson, according to sources close to the process.

After it appeared that the Warriors were prepared to part with Thompson in a deal to land Minnesota's Love, sources told ESPN.com that Hall of Fame consultant Jerry West and new Warriors coach Steve Kerr have voiced opposition to surrendering both Thompson and a future first-round pick to the Timberwolves along with former All-Star forward David Lee for Love and Wolves guard Kevin Martin.
We're going to get a lot of this in the week leading up to the draft and beyond if Love isn't moved before Thursday. Teams and agents will be leaking out information to the media in hopes of grabbing more of the upper hand and trying to maximize their end of the trade haul. The Warriors not wanting to give up Thompson and a first-round pick in addition to taking on the next three years of Martin's contract aren't a surprise, but with the Celtics, Bulls, Suns, Nuggets, and other teams having interest in acquiring Love, they might not have a choice.
The Wolves will need to negotiate a contract extension with Thompson almost right away while taking the $30 million of Lee's deal over the next two years. Because of this precarious cap situation assuming a deal with the Warriors is made, they'll be insistent on grabbing a first round pick and improving their cap situation with the subtraction of Martin's contract.
To assure giving up such a big haul for arguably the best power forward in basketball, it's assumed Love would waive opting out of his deal next summer and wouldn't hit unrestricted free agency until the summer of 2016. The jockeying for position and putting pressure on teams to up their offers will be as hectic as fallout from the eventual trade itself.
Show Comments
Hide Comments
The two best point guards in the East go at it in a series sure to be filled with drama.

Breaking down key matchups as the second season reaches the conference semifinal series

The second round of the 2017 NBA Playoffs tips off Sunday at 1 p.m. ET, with Game 1 of Cel...
The Spurs have homecourt advantage, and will host Game 1 Monday night at 9:30 p.m. ET

All-Star guard flew to Washington after Game 6 vs. Bulls to attend his sister's funeral Sa...

Some love for the Rockets over the Spurs, and at least one expert says the Cavs are going...