Report: Warriors making Klay Thompson available for Kevin Love
The Golden State Warriors are reportedly making Klay Thompson available in a trade to the Minnesota Timberwolves for Kevin Love.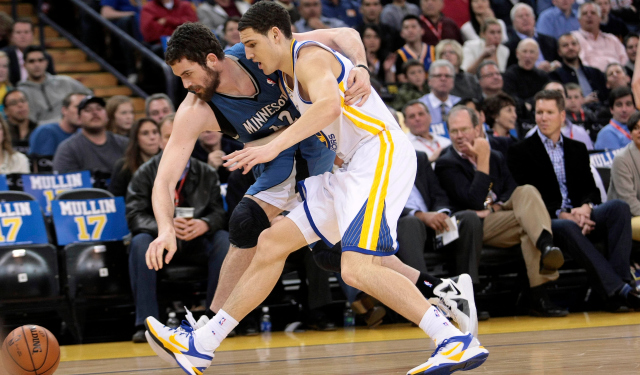 More Offseason Analysis: Coaching changes, news | Free Agency | Draft | Rumors
If the Minnesota Timberwolves are going to maximize the return they get when they eventually trade Kevin Love, the move has to happen around the draft or before free agency begins. Once teams start filling their rosters with free agents and taking on money, the Wolves will have fewer and fewer teams bidding in trade negotiations to sway Minnesota's interest. If the Wolves end up waiting until the trade deadline to move Love, the return will be at its lowest possible value.
That's why trade rumors are starting to ramp up and the Golden State Warriors are reportedly getting pretty serious in their efforts to acquire Love. Marc Stein of ESPN.com is reporting the Warriors are making Klay Thompson available in any deal that brings back Love. The most likely scenario would have to include David Lee going to Flip Saunders' roster.
ESPN sources say Golden State has indeed made Klay Thompson available to Wolves, greatly increasingly Warriors' hopes of getting Kevin Love

— Marc Stein (@ESPNSteinLine) June 19, 2014
This is a very risky move for the Wolves, but it might be the best trade offer available. While the Denver Nuggets are reportedly getting serious about involving themselves in the trade situation as well, the Wolves under Flip Saunders as part owner, president, and coach of the Wolves will be looking to compete in their next era following Kevin Love being traded. This deal would give them the chance of still competing for the playoffs if a lot of things go correctly for them.
Instantly, the Wolves would have to figure out a contract extension with Thompson, who would be moving from a good team in the West to a mediocre team. If they don't come to an agreement on an extension, he'd become a restricted free agent and the Wolves may have to match an offer sheet that is actually over his production on the court just to keep the key component of this trade. They'd also be paying David Lee $30 million over the next two seasons. 
For the Warriors, this is a no-brainer. Love hasn't made the playoffs in his career but he's also had one season in his career in which his team was good enough to make the postseason. He's arguably a top 10 player, he's the best offensive power forward in the NBA, and he's arguably the best rebounder in the league. The combination of Love and Stephen Curry would be one of the best duo's in the league and the Warriors have Andrew Bogut to cover Love on defense.
Don't even think about it -- LeBron's reportedly not going anywhere

The point guard's unhappiness reportedly helped lead to his eventual trade request

Even Floyd Mayweather weighs in on the war of words between the two stars
The three-team deal would have also shipped Kevin Love to Denver

Ball wasn't happy about a foul call, swore at a referee and took his team off the floor

Jared Sullinger wants back in the NBA; he knows his weight will play an important part