Report: Warriors open to trading anyone but Curry and Bogut
Golden State is itchy to make a big move in the face of failed expectations. Why are they freaking out?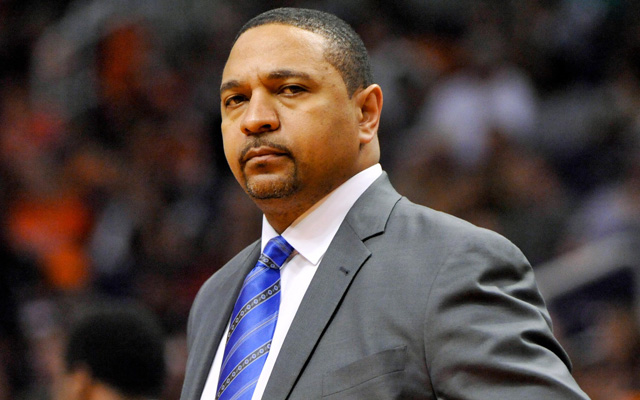 USA Today reports that the Warriors are feeling a little hot under the collar and are willing to move anyone outside of Stephen Curry and Andrew Bogut in order to reach their title-contender expectations.
Considering the heightened expectations this season and the fact that Golden State owner Joe Lacob means it when he says he's trying to build a championship team, it's safe to say the Warriors aren't content with their current standing (sixth in the Western Conference). They have one of the most aggressive front offices in the league, and rival executives are of the belief that anyone not named Stephen Curry or Andrew Bogut is up for discussion.
via NBA A to Z: As trade deadline nears, who sells, buys?.
This seems a little nuts to me. First off, the Warriors are seventh league-wide in net points per 100 possessions, a pretty good indicator of team strength. They're fifth among the West. They're right there. Second, they've dealt with a spate of injuries, from Andre Iguodala to Stephen Curry to David Lee and Bogut. Granted, this isn't cause for the nauseating hashtag #fullsquad to be used at every moment's notice for every success and failure, but it bears considering. 
Third, part of what put them in that title conversation was the concept of their defense being improved with Andre Iguodala on the outside and Bogut on the inside. Iguodala has been way more consistent with his injury history than Bogut has. Why isn't he a core part of the team who is untouchable? 
And Klay Thompson is a young, lights-out shooter (most of the time despite struggles for the past two months). Why is he movable? Draymond Green is cheap, an excellent defender and against all odds, a decent enough shooter. Why would you move him?
This isn't to suggest the report is inaccurate, it's to suggest that the Warriors' front office and ownership group needs more patience and some realistic expectations. This team struggled throughout the regular season last year and made a playoff run to Game 6, second round. There's time for them to hit their stride. 
A panic move for a team already struggling with depth would not be advised. 
Show Comments
Hide Comments
Our experts predict every series in the 2017 NBA playoffs

The Raptors do enough to get past the Bucks in the opening round of the playoffs

San Antonio ousts Memphis in their first-round series in six games
And Grizzlies coach David Fizdale didn't exactly disagree

Toronto survives, but struggles to do so

San Antonio will face the Houston Rockets in the second round