Report: Wizards, Bulls have talked Luol Deng for pick swap
The Chicago Bulls and Washington Wizards have discussed a potential swap of Luol Deng for Emeka Okafor and the No. 3 pick.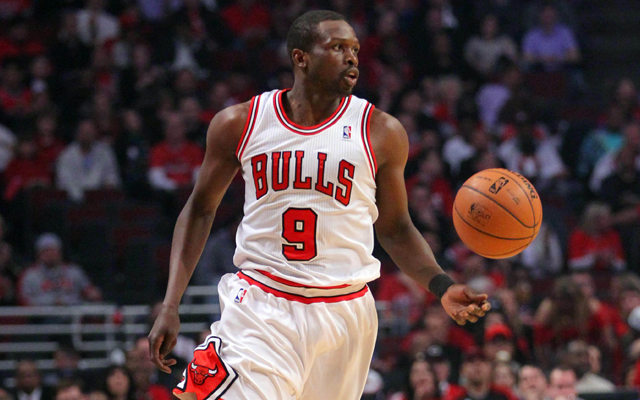 ESPN reports that the Wizards and Bulls have discussed a swap involving Washington's No. 3 pick in Thursday's draft and All-Star Luol Deng: 
Sources close to the situation told ESPN.com that the Chicago Bulls, in their latest attempt to gauge the trade value of All-Star swingman Luol Deng, have had exploratory discussions with Washington about a deal that would land Deng with the Wizards and bring the No. 3 pick in Thursdays draft to the Bulls. The most likely trade construction, if talks were to progress to the serious stage, would send Deng to the Wizards for the No. 3 pick and center Emeka Okafor, who would have to formally opt into his contract for next season $14.5 million this week for the trade to go through.
via Sources: Deng for No. 3 pick explored - TrueHoop Blog - ESPN.
It's an intriguing deal for both sides. The big takeaway here is that the Bulls are serious about trading Deng, who has a $14.2 million expiring contract for next season. Deng has played at an exceptionally high level for two seasons despite huge injuries in his wrist. He was sidelined in the playoffs due to illness that resulted in complications involving a spinal tap but is expected to make a full recovery. 
Such a trade would save the Bulls money while allowing Jimmy Butler to take on a bigger role at small forward after a breakout year. For Washington, it falls in line with their efforts to improve the team through veteran additions of signature players and would make for an extremely dangerous front court with Nene and whatever center they decide to plug in. 
Okafor would give the Bulls the bench center that they've been looking for after Omer Asik took off in free agency. 
Expect the value on Deng to only increase now that he's firmly on the table with an establishded market value. 
Show Comments
Hide Comments
They weren't discussing their favorite movies

The OKC star exits in 4-1 series loss to Houston after one of the most remarkable individual...

How to watch the first-round series between San Antonio and Memphis
The playoffs are getting interesting

The Cavs and Warriors have both swept their first-round opponents

Les Alexander appeared to complain to a referee in the middle of live play