Report: Wizards GM Grunfeld has another year on his deal
Wizards GM Ernie Grunfeld isn't operating as a lame duck, but has another season on his deal.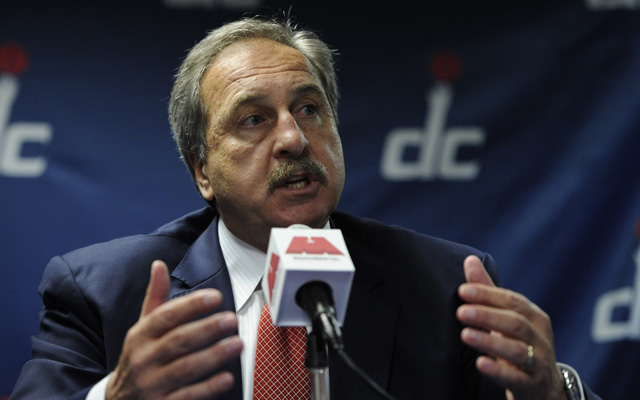 More postseason coverage: Playoff schedule, results | Latest news, notes
Wizards GM Ernie Grunfeld came in on what people thought had to be a hot seat. Despite having been the architect of the mid-2000's team that was either a disaster waiting to happen with Gilbert Arenas or the victim of bad luck, and the man behind the Nick Young-Andray Blatche-JaVale McGee era, Grunfeld had been constantly considered safe, in large part due to owner Ted Leonsis' unbelievable (and admirable) sense of loyalty. 
But after the Wizards missed the playoffs last year, this was going to be a big one. Even with the progress they made, would he return next season with his contract up? With the team in this kind of position, wouldn't someone else stepping in to take the reigns going forward not be the worst idea? 
Except the Washington Post reports that this isn't Grunfeld's last year on his deal. 
May: Eastern Conference Semifinalist Ernie. After saving Ted Leonsis almost $100 million during a reputation-swallowing rebuild, the ErnDog showed he stills knows how to build a contender. No other GM observes Earth Day like Ernie, who is able to recycle trash into Trevor Ariza. Getting Marcin Gortat for Emeka Okafor before the season . . . brilliant. Andre Miller as a rent-a-vet? Solid. Oh, and who knew he had another year left on his deal after this season that no one knew about until now (That's right, a little news for you.)
via 2014 NBA playoffs: Wizards find the second round, and the spotlight - The Washington Post.
So the Wizards have another year to evaluate Grunfeld... if they want. But considering the team just made the second round for the first time in a long time, and the changing perception of Grunfeld as Post columnist Mike Wise illuminates above, don't be shocked if it doesn't reach that point. 
Leonsis wants a reason to reward Grunfeld and coach Randy Wittman, and he's gotten it. At this point it would be an upset if the two weren't extended for the foreseeable future. 
Show Comments
Hide Comments
The hope for the Heat is that Bosh's salary will not affect the team's cap in the future

Seth's shooting numbers were better than Curry in the 2016-17 regular season

Hammond has agreed to a five-year deal, and will work under Orlando president Jeff Weltman...
A look at Boston's options for how to take their franchise forward at a pivotal moment

The NBA Draft and free agency hold many possibilities for Philadelphia

Jackson must also apologize as part of a diversion agreement that stemmed from a confrontation...