Report: Wizards interested in Ray Allen
Washington has kept a spot open for the all-time 3-point leader, just in case he wants it.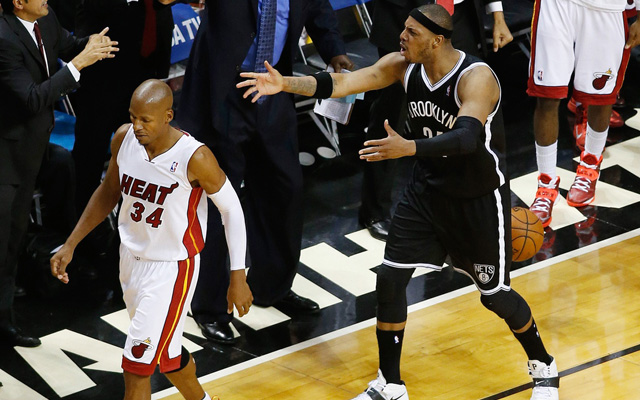 CSN Washington reports that the Wizards have been in pursuit of free agent shooter Ray Allen since the beginning of free agency, and remain open to adding the NBA's all-time 3-point leader, if he were at all interested. 
The Wizards would prefer to keep their 15th and final roster open but they'd quickly change gears for Ray Allen. The team contacted the 39-year-old shooting guard early in the free agent process to gauge his interest in signing, CSNwashington.com has confirmed with two people with knowledge of the situation Tuesday. 

Since the initial feeler sent out by the Wizards, there hasn't been any follow-up contact with Allen or his representation, CSNwashington.com has been told. But Tuesday, it was made clear that the Wizards will keep the door open with that 15th spot in hopes of Allen, or a veteran of his caliber and skill set, walking through it.
via Wizards interested in signing future Hall of Famer | Comcast SportsNet Washington.
The Wizards of course added Allen's teammate when he was in Boston, Paul Pierce, earlier this summer to replace Trevor Ariza who signed with Houston. Allen has been linked to interest from the Cavaliers, Clippers, and Spurs. Washington is looking at a drop in 3-point productivity this summer after Ariza's departure and Martell Webster's injury.
Allen has been reluctant to come back at all, and has said he's in "no rush" to return to the league after another long playoff run last season. Allen has two titles, the 3-point record, and is a surefire Hall of Famer. Not a whole lot left for him to accomplish. The fact that he never returned the Wizards' call doesn't bode well for their chances. But the fact that they're swinging this high for free agents indicates how serious they are about making a title run next season. 
Show Comments
Hide Comments
The commissioner's infamous veto of the Paul trade could have been different

Warriors are intent on keeping a mind like Jerry West around

LaVar has always been proud of his son, which Magic says isn't a problem as long as it doesn't...
Curry was cookin' on the pan and stole the show when she took over the mic

Shaq says LeBron isn't comparable to any one legend, rather a mixture of several greats

Kevin Love says the Cavaliers are on the same level as the Warriors: 'We match up well'