Report: Wizards' Nene out 4-to-6 weeks with MCL sprain
Wizards forward/center Nene is out 4-to-6 weeks with an MCL sprain, according to a report.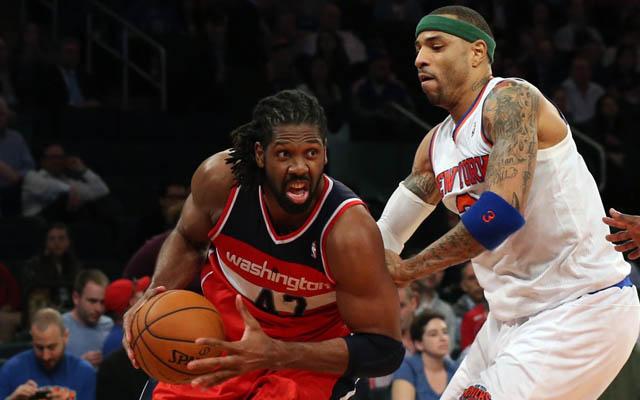 The Wizards just cannot catch a break this season. 
After finally getting some semblance of continuity and sustained consistency in their play, power forward/center Nene went down Sunday night with a knee injury. Adrian Wojnarowski of Yahoo Sports is reporting Nene will miss 4-to-6 weeks with an MCL sprain after an MRI revealed no tears or further damage to his left knee.
After initial fears of a season-ending knee injury, Wizards center Nene has suffered a sprained left medial collateral ligament and will return this season, a league source told Yahoo Sports.

Nene will miss four to six weeks, a league source told Yahoo Sports.
Nene has battled injuries the past three seasons, missing 71 games through two and a half seasons. Losing him now would put a major dent in their hopes of making noise in the playoffs, and might even threaten their odds of making it. Here's video of the injury.
Nene is fourth-best in the team in points-per-possession differential at +2.8 per 100 possessions this season with the Wizards. Washington moved back to .500 with a win Sunday at 28-28, currently the fifth seed in the East. 
Show Comments
Hide Comments
Our Latest Stories
Heat forward continues comeback efforts but without long-time representative Leon Rose

Longtime GM says team has to win more than 17 games but there are no real standards for im...

Former Bull won't respond to comments he is no longer a 'frontline' player.
The staff at the Q will get some championship bling

The Trail Blazers look to improve on last year's success

Teams are working to maintain honor and respect for the anthem and players' rights of expr...