Report: Wolves, Chase Budinger agree to three-year, $16 million deal
The Minnesota Timberwolves and Chase Budinger have reportedly agreed to a three-year deal that will pay $16 million with the third year being a player option.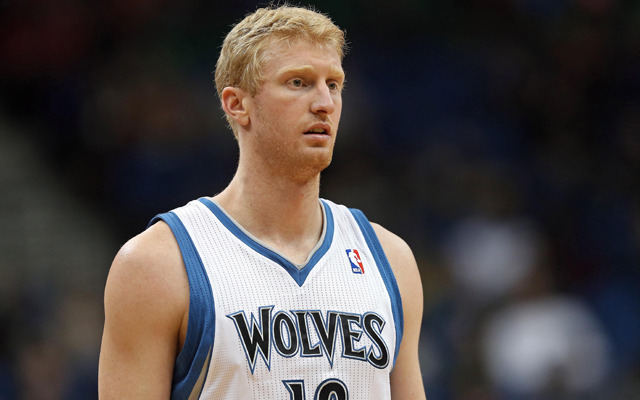 The Minnesota Timberwolves have two main focuses this offseason. They want to get this team healthy, and they want to find shooters to bolster the worst 3-point shooting team in NBA history (30.5 percent at 17.9 attempts per game; nobody has ever been that bad with that volume). Getting healthy is something they can do with rest and training in the summer, but outside shooting is something they badly need to acquire.
The lone shooter who did an effective job spacing the floor, even when he wasn't hitting shots last season, was Chase Budinger. The offense was better when he was on the floor because teams had to be cautious about leaving him open. The Wolves are reportedly bringing back the best shooter on the roster with a three-year, $16 million deal, according to Adrian Wojnarowski of Yahoo Sports.
Free-agent forward Chase Budinger has reached agreement on a three-year, $16 million contract to return to the Minnesota Timberwolves, league sources told Yahoo! Sports.

Budinger, a 6-foot-7 forward, returns to a strong core with the Wolves that includes Kevin Love and Ricky Rubio.

The third year of the deal will be a player option, a source said.
Budinger made just 32.1 percent of his 3-pointers last season while playing most of his games after coming back from a lateral tear in his meniscus. By the end of the season, he finally felt like he was regaining his athleticism, leg strength and movement, but it was far too late for him to help the Timberwolves in a season in which Rubio, Love, Nikola Pekovic, Andrei Kirilenko and Brandon Roy all missed significant time due to injuries.
Amazingly or sadly, Budinger was still fourth on the Wolves in 3-point percentage. The previous year with the Houston Rockets, he made 40.2 percent of his 3-pointers and is a career 35.8 percent shooter from downtown. His athelticism and knowledge of Rick Adelman's system made him a priority for the Wolves' roster this offseason. He averages 9.4 points and 3.4 rebounds in 21.6 minutes per game over his four-year career.
Show Comments
Hide Comments
Our Latest Stories
Harden, Rockets make an MVP statement on Sunday

You won't see the Rockets guard taking games off

Sacramento scores in the final seconds to stage a miraculous comeback at the Staples Cente...
The Greek Freak shows off again

What just happened on Kobe Bryant's NBA Countdown appearance?

Smith's baby girl, Dakota, had her breathing tube removed