Report: Wolves will pick up Derrick Williams' 2014-15 team option
Minnesota Timberwolves forward Derrick Williams will reportedly have his 2014-15 team option picked up by the team.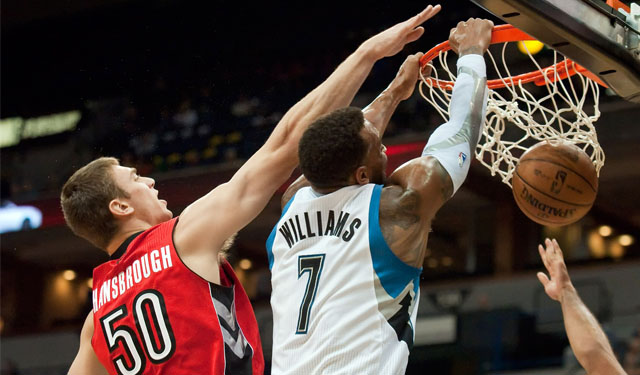 The Minnesota Timberwolves have been trying to figure out how to make their top selection from the 2011 NBA Draft work for them. Back when David Kahn grabbed standout forward Derrick Williams with the second pick in the draft, the plan was find a way to put him next to Kevin Love or hope that he made Love expendable in a trade. Neither of those options have come to fruition just yet.
Williams hasn't been a quick starter but he has shown enough improvement in his game for the Wolves to want to keep their options open with the 22-year old forward. According to 1500 ESPN, Wolves owner Glen Taylor has confirmed that the Wolves will exercise their team option on Williams fourth season before the October 31 deadline. 
Derrick Williams' $6.3 million option for 2014-15 will be exercised, Wolves owner Glen Taylor confirmed to 1500ESPN.com contributor Darren Wolfson.

Williams' future with the Minnesota Timberwolves has been a lingering storyline throughout the preseason. For now, at least one question surrounding Williams has been answered.

The former 2011 No. 2 overall draft pick is on tap to make just more than $5 million this season. His seven-figure raise next year will put the Wolves very close to the league's luxury tax.
The biggest issue for Williams has been fit with this team. He actually played well last season in Kevin Love's absence, averaging 12.0 points and 5.5 rebounds in 24.3 minutes per game. He shot 43.0 percent from the field and 33.2 percent from 3-point range. He started 56 of the 78 games he played in due to Love breaking his hand twice and the copious amounts of injuries the Wolves suffered.
However, finding a way to make him successful at the small forward position has been difficult and getting him to fit into Rick Adelman's offensive and defensive schemes hasn't been easy either. In an effort to be more useful on both ends of the floor and more versatile, Williams dropped a considerable amount of weight this offseason and had jaw surgery to improve his bite and his breathing. Williams is the lightest he's been since before he attended the University of Arizona. 
The question will be whether or not he can find a way to consistently fit into the small forward position with Kevin Love and Nikola Pekovic out there taking up space at the power forward and center positions. If Williams can't find ways to be successful next to those guys, the Wolves will either move him for a wing player within the next year or he would likely become a free agent in 2015 without much effort to keep him from the Wolves.
Show Comments
Hide Comments
The final Game 7 of the first round will tip off at 3:30 p.m. ET

Game 1 of the second-round series between the Celtics and Wizards tips off at 1 p.m. ET on...

The two best point guards in the East go at it in a series sure to be filled with drama.
Breaking down key matchups as the second season reaches the conference semifinal series

The second round of the 2017 NBA Playoffs tips off Sunday at 1 p.m. ET, with Game 1 of Cel...

The Spurs have homecourt advantage, and will host Game 1 Monday night at 9:30 p.m. ET