Report: Woodson's job security could hinge on Nets game
Mike Woodson needs to beat the Brooklyn Nets Thursday or the Knicks could look at making a change.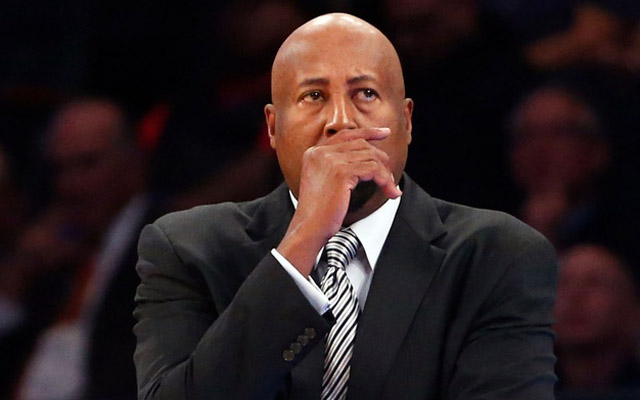 This was inevitable. In truth, the New York Knicks have actually been remarkably patient with their disastrous 3-12 start to the season. But at some point, someone has to be held accountable, whether they are responsible or not, for the slide. The New York Post reports that Thursday's Nets-Knicks game is a big one for coach Mike Woodson and his efforts to keep his job. 
The expiration date on owner James Dolan's recent vote of confidence for coach Mike Woodson is approaching, according to sources. While Woodson will coach the Knicks when they play the Nets on Thursday, it is unclear how much longer Dolan will allow this losing streak to go on. It has reached nine straight defeats and the team's mental instability has become an issue. Dolan is obsessed with the Brooklyn franchise and a blowout loss could trigger changes — whether via trade or a coaching move.
via Mike Woodson on hot seat; could Jeff Van Gundy be next? | New York Post.
We predicted this on the Eye on Basketball podcast weeks ago. This is D-Day for Woodson. He's gotta win this game. He cannot lose to the Nets. This is like Texas-Oklahoma. You can beat up on all the KSU's you want, but finish with fewer than ten wins and lose to the rival, you're in trouble. And Mike Woodson is no Mack Brown or Bob Stoops. 
It's possible he loses that game and the Knicks continue to ride with him, but he loses a lot of support under any conceivable scenario. 
Meanwhile, the Post reports that a preliminary discussion of potential replacements doesn't exclude former Knicks coach Jeff Van Gundy. Now, the report's clear that it doesn't include him either. But it means owner James Dolan is amenable to the idea. 
But forget JVG. He's not leaving a cushy, fun announcing gig to take the most pressured basketball job in the country with what would then be a 3-14 team with massive chemistry issues, no draft picks, and whatever the hell J.R. Smith is doing right now. 
No, the bigger point is this. Say what you want about the Post, but there's smoke here. Any discussion of whether JVG would or would not be on a list indicates that that list has already been discussed, even if it hasn't been written down. Tyson Chandler's injury, the offensive struggles of J.R. Smith returning from knee surgery, the tumultuous situation with Iman Shumpert, none of this is directly relatable to Woodson. But there has to be a lightning rod for the criticism, and Woodson's it. The storm clouds are gathering, and the Knicks need to head for daylight in a hurry Thursday or risk the wrath from on high. 
New York just doesn't do patient. 
Show Comments
Hide Comments
On a night of blowouts, Stephen Curry led the Warriors to a sweep and the Raptors got their...

The playoffs are getting interesting

The Cavs and Warriors have both swept their first-round opponents
Our NBA experts predict the first round of the playoffs

Our experts predict every series in the 2017 NBA playoffs

Golden State swept the series, 4-0