Report: Zach Randolph off the trade market
The Grizzlies reportedly won't trade Zach Randolph.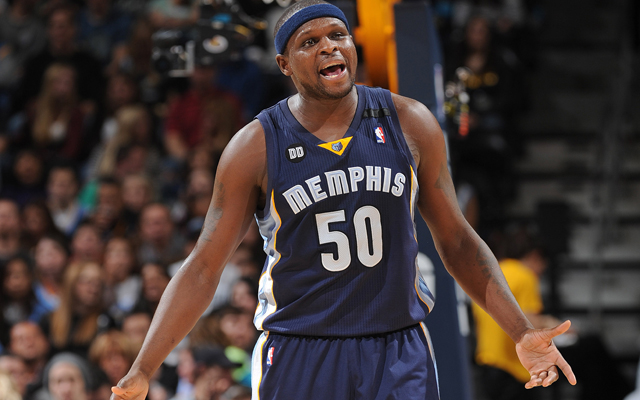 ZBo's not going anywhere, reportedly.
(Getty Images)
The Grizzlies upset some fans, and a lot more media, by trading Rudy Gay. The move was seen as blowing up the core of a contender, or a least a sub-contender, despite Gay's offensive misery this season and the complaints of many that they don't feed the post enough. But an even bigger cause for alarm were the reports that, after trading Gay, the Grizzlies could still be looking to shed more salary by trading franchise cornerstone, two-time All-Star and most popular player Zach Randolph.
Well, put the trade machines down, folks. The team has made it clear through the Memphis Commercial-Appeal that Randolph's not going anywhere. Probably. 
Griz continue to field trade calls for Zach Randolph but have informed teams that they aren't interested in moving the All Star forward

— Ronald Tillery (@CAGrizBlog) February 8, 2013
So they're not trading Randolph, but they're still taking calls on him. OK. That makes sense. And by sense, I mean "sounds right for the NBA's screwed-up trade behavior." 
Trading Randolph honestly makes very little sense at this point. Yes, his contract escalates to nearly $18 million next season and his value is at its highest this year. But he has an Early Termination Option for the year after. And given how he has played, there's a good chance he'll enter free agency, giving Memphis a "Get Out Of Cap Jail Free" card. 
Meanwhile, moving him would kill a locker room already in disarray after the Gay trade and destroy fan support for new ownership in a city that has only recently started to buy into the team. 
Better to keep Randolph and tweak around him, planning for when his contract naturally expires, than rushing to cut the cord. 
Show Comments
Hide Comments
The two best point guards in the East go at it in a series sure to be filled with drama.

Breaking down key matchups as the second season reaches the conference semifinal series

The second round of the 2017 NBA Playoffs tips off Sunday at 1 p.m. ET, with Game 1 of Cel...
The Spurs have homecourt advantage, and will host Game 1 Monday night at 9:30 p.m. ET

All-Star guard flew to Washington after Game 6 vs. Bulls to attend his sister's funeral Sa...

Some love for the Rockets over the Spurs, and at least one expert says the Cavs are going...