Reports: AEG, owner of Staples Center, to go up for sale
AEG, the company that owns the Staples Center in Los Angeles, is reportedly up for sale. Staples Center is home to the Lakers and the Clippers.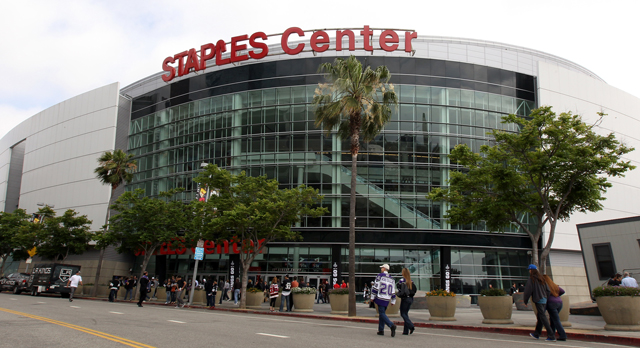 The owner of L.A.'s Staples Center is reportedly up for sale.
(Getty Images)
The Lakers and Clippers could soon have new landlords.
The Los Angeles Times reports that AEG, a subsidiary of the Anschuntz Co., is being put up for sale. AEG owns the Staples Center, home to both of L.A.'s NBA teams and the NHL's Los Angeles Kings.
The company that owns the Staples Center and the Los Angeles Kings announced late Tuesday it is being put up for sale, sparking a potential billion-dollar bidding war for some of the sports and entertainment world's glitziest properties.

It's unclear how far along the process is or whether any likely buyers have emerged.
Reuters reports the following details.
A sale of AEG could fetch several billion dollars, the source said.

This is not the first time that Anschutz has explored a sale of some or all of AEG. In 2008, IAC's (IACI.O) Ticketmaster and Cablevision Systems Corp (CVC.N) came close to acquiring 49 percent of the AEG Live concert division for roughly $400 million. But those talks eventually flamed out and Ticketmaster went on to merge with Live Nation.
While AEG owns the Kings, the Lakers' majority owner is Jerry Buss and the Clippers are owned by Donald Sterling.
The Lakers reportedly signed a 25-year lease deal to play in the Staples Center in 1998. The Clippers reportedly signed a 6-year lease in 1998 and then another 10-year lease in 2004.
In 2011, the Los Angeles Times reported that Anschutz owns 30 percent of the Lakers and that the team doesn't pay rent to use the Staples Center, but instead forks over "an undisclosed percentage of their games' ticket sales to the arena."
AEG was instrumental in the development of L.A. Live, a downtown entertainment district constructed around the Staples Center. The building opened in 1999 and went on to host NBA All-Star Weekend in 2004 and 2011.
The Staples Center made headlines in May when the Lakers, Clippers and Kings played a combined six home playoff games over a 4-day period. 
Show Comments
Hide Comments
Draymond wasn't mad about the move, though. He was mad about the way he heard about it

All-Star forward was sent from the Bulls to the Timberwolves on draft night

It's not so much who Boston took, but who it didn't take
Former Bulls star was venting after being traded to the Timberwolves

Phoenix Suns' top pick was a bit off the mark with ceremonial first pitch at Diamondbacks...

Lakers traded Russell to the Nets along with Timofey Mozgov in exchange for Brook Lopez and...