Reports: Bulls 'pessimistic' about Melo, LaLa wants to stay in New York
A segment of the Bulls front office reportedly is worried that Carmelo Anthony is going to stay with the Knicks.
• 1 min read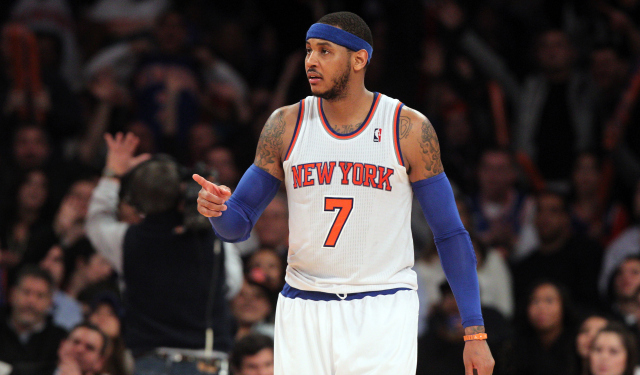 More Offseason Analysis: Coaching changes, news | Free Agency | Draft
Members of the Chicago Bulls front office are concerned that free agent Carmelo Anthony will choose to stay with the New York Knicks, according to ESPN New York's Ian Begley:
"They're worried that he's headed back to New York," a source with knowledge of the team's thinking said of early Tuesday morning. "They're more pessimistic than optimistic."

The source wasn't speaking for the entire Chicago front office, just a small segment. So there is reason to believe that not all members of the team's hierarchy shared this opinion.
Anthony's wife, LaLa, would prefer that he re-signs with the Knicks, according to Marc Berman of the New York Post.
According to two sources, Anthony's wife, La La Vasquez, also a Brooklyn native, is very happy in New York and is opposed to Melo leaving the Knicks. He became a free agent for the first time in his career at 12:01 a.m. Tuesday, but Anthony said in a video interview posted last week he's worried about uprooting his family and 7-year-old son, Kiyan.

"There's reason to believe he's staying," said one individual with ties to Anthony's inner circle. "There's just too much money out there. He's doing to the right things, though. He's got to make the rounds."
His free-agent tour started on Tuesday in Chicago, and the Bulls have been preparing for this day for a long time. The odds might favor Anthony returning to New York, but it's too early to count out his other suitors.
Despite all the hubbub about Derrick Rose not being a recruiter, K.C. Johnson of the Chicago Tribune reported that Rose will talk to Anthony if that's what Anthony wants:
As Thibodeau hinted Monday with his "our players will be available to talk" comment, DRose will be part of Bulls' pitch to Melo. (cont.)

— K.C. Johnson (@KCJHoop) July 1, 2014
Whether that involves DRose at meeting or just available to talk to Melo isn't known yet. But if Melo wants to talk to DRose, should happen.

— K.C. Johnson (@KCJHoop) July 1, 2014
Could this have an effect on Carmelo Anthony's future in New York? What about Kristaps Por...

Chicago needs to decide whether to pay Rondo $13.4M next season or buy him out for $3M

Rose played in 64 games for the Knicks before a season-ending knee injury
Durant chose an odd way to shout out his former OKC teammate

Teams are reportedly trying to bring in the veteran forward in an effort to weaken the War...

LeBron has reportedly already ruled out any chance of joining the Clippers