Reports: Carmelo Anthony is expected to return to the Knicks
It looks like Carmelo Anthony is leaning toward staying in New York, and he reportedly might take less than the max.
• 2 min read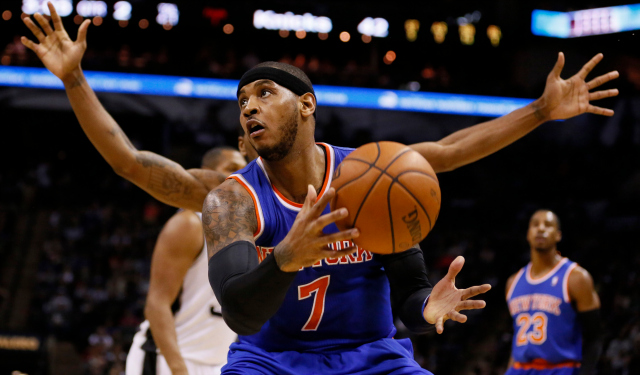 More Offseason Analysis: Coaching changes, news | Free Agency | Draft
Free agent forward Carmelo Anthony expected to re-sign with the New York Knicks, who have offered him a five-year, $129 million contract, according to Frank Isola of the New York Daily News:
NBA free agency has been put on hold as the Knicks wait on Carmelo Anthony and the entire world waits on LeBron James, whose future may or may not be tied to Anthony's.

Anthony is expected to accept the Knicks' five-year, $129 million contract offer, and a decision could be made within the next 48 hours. The one holdup could be James, who is also an unrestricted free agent and is being courted by several teams, including the Cavaliers and the Lakers. Anthony met with the Lakers on Thursday in Los Angeles and afterward Lakers officials flew to Cleveland to meet with James' agent, Rich Paul.

…

Meanwhile, Knicks president Phil Jackson is working on making the team an immediate contender in the Eastern Conference to impress Anthony and get James' attention. Jackson upgraded the point guard position by acquiring Jose Calderon from Dallas last week, and believes that Anthony re-signing is imminent. 
This report follows up on one saying Anthony is "largely aligned" with Phil Jackson's vision, and another saying that New York considers the Chicago Bulls the "only real threat." The Knicks are "the clear favorites" and Anthony could even end up taking less than the max to facilitate future free-agent signings, according to Marc Berman of the New York Post:
Knicks president Phil Jackson told Anthony during Thursday night's meeting in Los Angeles he can have the team's maximum 5-year, $129 million contract if he wishes. But The Post has learned there's a distinct possibility Anthony will still decide to take a little less than the max.

One scenario would be Anthony starting at the max $22.4 million, but taking a 7.5 percent pay reduction in Year 2, as allowed by the collective bargaining agreement. That reduced salary for the 2015-16 season would give the Knicks a little more cap space next summer.
Both the Daily News and the Post regard LeBron James as the only wild card here -- the Lakers are reportedly trying to sign James and Anthony, and there's also the slim, slim chance Anthony could wind up in Miami. At this point, all signs point to him staying in in New York. Anything else would be considered a surprise.
Can the former MVP be a healthy contributor to the reigning East champs amid organizational...

Lillard made the comments in regards to the Kyrie Irving situation

Rose reportedly agreed to a one-year deal with the Cavs
Fredette starred for the Shanghai Sharks last season

The free-agent point guard spent last season with the New York Knicks

Stevens was trying to take Hayward and his wife to their hotel