Reports: Hawks, Cavs, Celtics, 76ers, in Asik trade rumors
Turkish center is likely to find a new home soon in trade talks.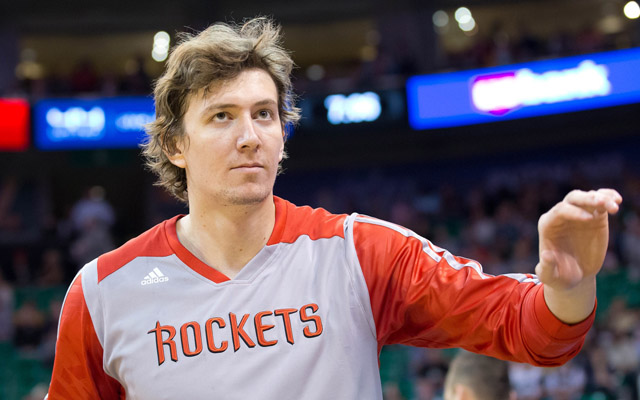 The Rockets' self-imposed deadline to trade center Omer Asik of December 19th is Thursday, but multiple reports Tuesday night indicate that Houston has found enough suitors to potentially move up the talks. 
Ken Berger of CBSSports.com reports that a three-way deal with Boston and Philadelphia is a possibility, and that Asik isn't the only Rocket available. 
As the Rockets extract offers for disgruntled center Omer Asik before a self-imposed Thursday deadline, one scenario that has emerged has Asik going to Boston in a three-team deal with Philadelphia as the facilitating team, league sources told CBSSports.com.

One league source described the scenario as a long shot, calling it a "weird deal." Indeed, there would have to be strong incentive for the Sixers to steer Asik to a division rival. But both teams are strongly in the mix as possible destinations for the Turkish center, who has requested a trade after his role changed with the arrival of Dwight Howard in Houston.

Multiple league executives said the Rockets also are open to packaging Jeremy Lin with Asik, but that scenario appears unlikely as well. As one executive said of Lin, "I'm not sure there are many, if any, takers for him right now."
via Asik scenarios emerge with self-imposed deadline looming - CBSSports.com.
The full list via multiple reports includes the Atlanta Hawks , Boston Celtics , Philadelphia 76ers , and that a 'mystery team' is late in the game as a potential suitor for the big man.
Numerous teams consulted by ESPN.com in recent days have said they are convinced the Rockets will indeed go ahead with a trade headlined by Asik before their self-imposed deadline of Dec. 19, with sources saying Tuesday that the Boston Celtics are increasingly active in the Asik talks.

As a result, the Celtics now are widely regarded as the strongest rivals to the Philadelphia 76ers in terms of likely destinations for Asik, with many rival executives expecting the final form of a trade built around the 7-footer from Turkey to feature at least three teams.

Sources have described the Atlanta Hawks as Houston's preferred trade partner since the Rockets came to the conclusion last month that, despite their attempts to placate Asik, they eventually would have to give in to the unhappy center's long-running desire to be moved in the wake of Dwight Howard 's arrival in July. Yet it remains unclear, sources say, how interested Atlanta really is in parting with coveted forward Paul Millsap  -- who's considered an ideal frontcourt complement to Howard -- in exchange for Asik.
via  Houston Rockets on track to trade Omer Asik; Boston Celtics emerging - ESPN.
Another team, deemed a "wildcard" by one league source, has teetered on the edge of negotiations and could become more seriously involved before the Rockets' self-imposed deadline of Friday to complete a deal.

Houston is pursuing a power forward in a deal, with candidates including Atlanta's Paul Millsap, Philadelphia's Thaddeus Young , Boston's Brandon Bass and Jeff Green and Cleveland's Anderson Varejao .
via Hawks, Celtics, Cleveland Cavaliers , 76ers lead pack to acquire Rockets center Omer Asik - Yahoo Sports.
This isn't the first time the Cavaliers have come up, and they're known to be pushing Dion Waiters to anyone and everyone interested. The Hawks have been linked forever because of Paul Millsap's excellent fit next to Howard and the remarkably fluid two-year contract he's on. But you would have to think Millsap holds too much valuable as both a player and a trade asset to move for Asik and his $15 million "poison pill" in 2015. 
Meanwhile, ESPN floats the possibility of a three-way trade sending Jeff Green to Cleveland, Anderson Varejao to Houston, and Asik to Boston, with Houston snagging a first-round pick, Daryl Morey's real object of covet with the value of this year's draft, not only for the pick itself, but its inevitable value at the trade deadline should Houston pursue yet another upgrade. 
So to review: 
1. 76ers: Likely based on relationship with Sam Hinkie and ease of transfer, though the Rockets aren't crazy keen on either Spencer Hawes or Thaddeus Young. If there was a deal to be made it would have happened already, given the relationship between the two GMs. This is the fallback, default trade option. 
2. Celtics: Boston would only want this if they can get an upgrade without giving anything of substance up. Jared Sullinger is off the table according to multiple reports, as is Rajon Rondo . Jordan Crawford is their most vaulable asset right now (seriously, where are we?) so he's not going anywhere, either. 
3. Cavaliers: They have a wing to give in Waiters and the willingness to take on the money for Asik, but the question is whether they'll be able to find a three-way partner to provide a pick, assuming they don't want to surrender their own. 
4. Hawks: They have the pick ( Brooklyn Nets ) the Rockets could want, but the Millsap talk for now is entrely from Houston' side and doesn't make much objective sense from Hawks GM Danny Ferry's standpoint unless there's more involved from Houston or in a three-way. Ferry's admirably quiet stance and ability to keep their position close to the vest complicates how serious these talks can be considered. 
5. Mystery Team: Who knows? 
But Asik looks to be on the move, and you'd have to think with the leaks coming Tuesday night that the deal is closer to being done Wednesday than at the deadline. 
Asik is averaging four points and seven rebounds for Houston and has missed games over his dissatisfaction with the Rockets over his role since the free agency acquisition of Dwight Howard. 
Show Comments
Hide Comments
Our Latest Stories
In another shootout, the Washington got the best of LeBron James and co.

It doesn't, however, sound like he's looking for an official role

This isn't what you'd call peaking at the right time as Utah have lost four of its last fi...
Golden State is hoping to get Durant back before the end of the regular season

Shaquille O'Neal wishes his resume was a little bit stronger

The Philadelphia big man said it went 'better than expected'