Reports: Knicks close to signing Rasheed Wallace
The New York Knicks are reportedly getting close to signing unrestricted free agent forward Rasheed Wallace.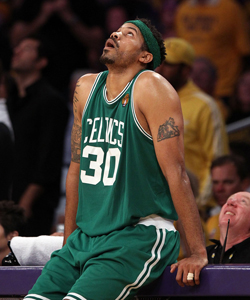 Rasheed Wallace could soon sign with the Knicks.
(Getty Images)
A report from earlier this week that the New York Knicks were considering signing Rasheed Wallace is gaining some serious steam.
The 38-year-old unrestricted free-agent forward, who hasn't played in the NBA since April 2010, reportedly worked out for the team and underwent a physical this week. League sources confirmed to CBSSports.com that the Knicks are weighing the addition of Wallace despite the obvious questions about his age and conditioning.
On Friday, the New York Post reported Wallace would attend Knicks training camp, which opens next week. Newsday reported a Wallace signing could come shortly.
Ken Berger of CBSSports.com reports that, according to a Wallace associate, Wallace will only come back to play with the Knicks because of his relationship with coach Mike Woodson, which dates back to their time together in Detroit, where Woodson was an assistant and Wallace was a star forward for the Pistons.
New York currently has four big men who figure to make their final roster:
Tyson Chandler
,
Amar'e Stoudemire
,
Marcus Camby
and
Kurt Thomas
.
Wallace last played for the Boston Celtics during the 2009-10 season. He announced his retirement in August 2010 but has been linked in talks of a comeback on multiple occasions since then, most recently in February 2012, when he was rumored to be signing with the Los Angeles Lakers. 
Once a physical forward with a feathery shooting touch, Wallace won a title with the 2004 Detroit Pistons. Given the continued employment of aging veterans (including Thomas and Camby), it's understandable that Wallace would survey the landscape.

Wallace was fairly durable into his 30s, playing at least 75 games in five of his last six seasons. Still, he's going on 30 months since he has played in an NBA game. Any chance of a meaningful contribution would seem to be unlikely, although his role as a deep reserve big man in New York would likely be very limited: hit wide open mid-range shots and give fouls around the rim.

According to Basketball-Reference.com, Wallace made more $156 million in salary during his 15 NBA seasons. He posted career averages of 14.6 points, 6.7 rebounds and 1.3 blocks per game during a career that included stops with the Washington Bullets, Portland Trail Blazers, Atlanta Hawks, Detroit Pistons and Celtics.
Cleveland is one of Rose's biggest suitors, and the Irving situation could lead to an even...

Five years later and Celtics fans continue to throw shade -- Allen later deleted the comme...

Irving has a desire to team up with Butler dating back to June
Apparently, Irving first asked to be traded in June in hopes of joining Jimmy Butler in Ch...

Despite Melo being a good trade piece for the Knicks on paper, he has his sights set on joining...

Kyrie is reportedly open to leaving Cleveland, and New York is among his top choices to be...