Reports: Knicks want Lowry again, Raps have taken him off table
The Knicks reportedly want to get their hands on point guard Kyle Lowry again, but the Raps are good standing pat with him.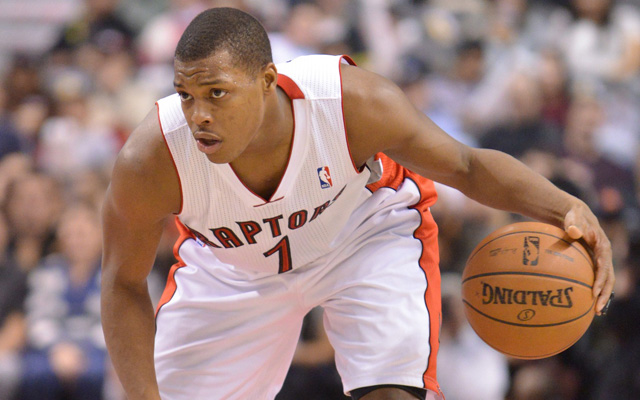 Welcome back to Days of Our Kyle Lowry. 
On this week's episode...
OK, so when last we left you, the Knicks had shut down talks for Lowry before the Raptors went on a tear because they didn't want to give up a draft pick and were tired of being made fun of by us the media. Then the Raptors got hot and Lowry has played at an All-Star caliber pace, and it seems crazy to trade him because they could actually maybe win a first-round series. (They aim high in Toronto.)
But with the trade deadline a week away and the Knicks not exactly having righted the ship, we're back to those conversations. 
The Knicks are in fact interested in Toronto's Kyle Lowry. Classic Knicks. Could have had him two months ago, backed out now want him again.

— Frank Isola (@FisolaNYDN) February 11, 2014
Oh, OK, so they are willing to trade Lowry. Wait, no. From Yahoo Sports:
Toronto has shown significant reluctance to part with Kyle Lowry, preferring to make a playoff run with him, league sources tell Yahoo.

— Adrian Wojnarowski (@WojYahooNBA) February 12, 2014
Adds an executive with a team that's been a suitor of Kyle Lowry, "We've heard it from (Toronto) that he won't be moved."

— Adrian Wojnarowski (@WojYahooNBA) February 12, 2014
So basically, the Knicks want Lowry now, but the Raptors don't want to move him.
I'm still not in on not moving a soon-to-be free agent when you can get something in return for him, but the team is so happy with winning, and the media's all fired up and the fans are having fun believing that there's not a lot of harm in it. This Raptors team isn't really tied to their future at all, but that doesn't mean they can't have some fun for a few more months. 
The Knicks, however, are having a harder time having fun. 
Show Comments
Hide Comments
The Celtics star coach looks ready to take the throne as one of the great coaches in the l...

Utah couldn't clinch at home, and the Clippers live another day

The Celtics coach appeared to be upset when the chants broke out
Cleveland will host Toronto on Monday

Boston will host Washington on Sunday

Nothing can happen until Cleveland's season is over, however