Reports: Phoenix Suns agree to max offer sheet for Hornets' Eric Gordon
The Phoenix Suns and New Orleans Hornets' restricted free agent guard Eric Gordon have reportedly agreed to a maximum offer sheet worth $58 million over four years.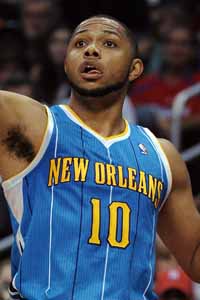 The Suns agreed to extend a max offer to Eric Gordon.
(Getty Images)
The Phoenix Suns have agreed to extend a 4-year maximum offer sheet worth $58 million to New Orleans Hornets restricted free agent guard Eric Gordon, according to ESPN.com and the Arizona Republic.
The offer sheet cannot be officially signed until July 11, after the NBA's 10-day moratorium ends. 
The Arizona Republic obtained this statement from Gordon concerning his future.
"After visiting the Suns, the impression the organization made on me was incredible," Gordon said in a prepared statement. "Mr. Sarver, Lon Babby, Lance Blanks, the front office staff and Coach Gentry run a first-class organization, and I strongly feel they are the right franchise for me. Phoenix is just where my heart is now."
The Hornets, who are well under the salary cap, will have three days to match once the offer goes official, which they are widely expected to do. Indeed, Yahoo Sports reported Tuesday that the Hornets "will match" the offer sheet, despite Gordon's statement.
Gordon reportedly planned a number of visits around the league once free agency opened July 1. The Suns' reported interest in signing Gordon dates back to last week.
Gordon is ranked No. 2 on the CBSSports.com Top-40 free agents in the class of 2012.
Gordon, 23, missed much of the 2011-12 season with a knee injury after being traded to the Hornets from the Los Angeles Clippers in December 2011 as the centerpiece of a blockbuster trade that sent All-Star point guard Chris Paul to L.A. He holds career averages of 18.2 points, 3.3 assists, 2.7 rebounds and 1.1 steals per game and is regarded as one of the best young perimeter scorers in the game. Gordon is a candidate to make the U.S. National Team that will compete in the 2012 London Olympics.
Gordon joins Indiana Pacers restricted free agent center Roy Hibbert in the max offer sheet agreement category, as Hibbert received his from the Portland Trail Blazers over the weekend.
Sacramento signs Serbian to 3-year, $36 million contract while passing on Ben McLemore

Free agency is around the corner, which means there could be a ton of significant moves coming...

The Knicks still intend to trade Carmelo Anthony even with Phil Jackson gone
Paul George is a college football coach at heart

CP3, the Point God, is headed to Clutch City, and the NBA landscape has again flipped on its...

According to one league executive, Chris Paul 'despised' Clippers coach Doc Rivers