Reports: Suns reach agreement to re-sign P.J. Tucker
Phoenix brings back veteran defender and three-point shooter on three-year deal.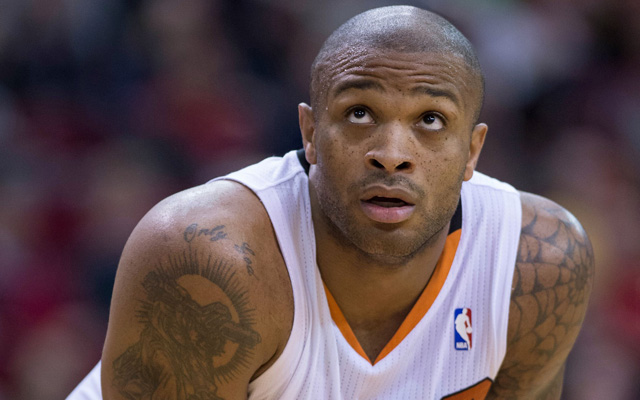 More Offseason Analysis: Updating Free Agency news | Top 40 free agents
The Arizona Republic along with Yahoo Sports and RealGM.com report that P.J. Tucker has reached a three-year, $16.5 million agreement to re-sign with Phoenix. 
Suns coaches, teammates and executives considered P.J. Tucker to be the heart of their team last season, and the franchise backed their opinion of his value by agreeing Thursday to a three-year, $16.5 million contract to keep him in Phoenix. About $3.8 million of Tucker's third-year salary will not be guaranteed. Tucker has not signed the contract.
via Suns, P.J. Tucker agree to 3-year, $16.5M contract.
Tucker isn't getting much better at age 29 but proved himself to be a vital part of what Phoenix did last season. He shot 37.5 percent from three last year, averaging 9.4 points and 6.5 rebounds per game. But more than that, he set the tone for the Suns last season. 
Coach Jeff Hornacek described Tucker as the player who often admonished players when the team trailed at the half, and who brought the toughness for a young, fast team that at times struggled defensively. Tucker was the one player willing to give the hard foul and challenge opponents. Throw in his ability to stretch the floor while also adding value defensively and he was pretty valuable for what Phoenix is trying to do. 
Getting him at $5.5 million per season is remarkable value. It's a deep wing crop on the market but still, a veteran who can shoot and defend might have been able to draw more value in free agency. The Suns did well in bringing him back. The Republic also reports that the third year of the deal is non-guaranteed at just $3.8 million, giving them even more flexibility and allowing them to move him as an expiring contract next season. 
Shaquille O'Neal certainly knows how to bring attention to himself

Warriors, who are not leaning on taxpayers for the arena, plan to pay back the fee after 30...

In a documentary short, Redick explains part of the reason he left the Clippers for the 76...
The Cavs are reportedly nearing a deal with Rose, but the Lakers will try to persuade him to...

The former NBA All-Star launched a successful second career overseas

Tom Thibodeau confirmed locking up Wiggins is the next step for Minnesota after a busy sum...