Reports: Wolves to acquire Young and trade pick, Shved, Mbah a Moute
It looks like the Minnesota Timberwolves are going to wind up with Thaddeus Young without trading Anthony Bennett.
• 1 min read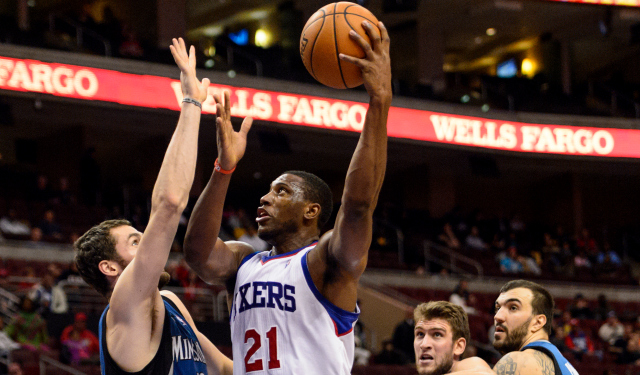 Let's clear things up with regards to the moving parts in the Kevin Love-Andrew Wiggins trade that can be completed on Saturday. Anthony Bennett is reportedly staying with the Minnesota Timberwolves, not going to the Philadelphia 76ers. Thaddeus Young is reportedly going to Minnesota, with the Wolves sending a few assets Philly's way. 
According to Dan Barreiro of KFAN 100.3 and Jon Krawczynski of the Associated Press, it looks like the Sixers would get the Miami Heat's first round pick in 2015, guard Alexey Shved and forward Luc Richard Mbah a Moute. That Heat pick was originally sent to Cleveland in the LeBron James sign-and-trade in 2010, and it would have been going to Minnesota as part of this Love deal if this didn't turn into a three-team transaction.
So, if this comes to be, Timberwolves president Flip Saunders is giving up on Shved after two underwhelming seasons and he's judging Young to be more valuable than the veteran defensive presence of Mbah a Moute and that Miami pick. This is a bit of a risk, in that Young could decide to walk in free agency next year or the following one. It appears Saunders wants to be competitive next season, though, and Young will almost assuredly have a bigger impact in Minnesota than Mbah a Moute and Shved would have.
The Sixers wanted a first-round pick for Young, and it looks like they are getting one. This is disappointing for the Philadelphia fans who thought they were getting 2013 No. 1 overall pick Bennett, especially as the Heat will almost certainly be a playoff team in the East next season. But that doesn't mean this is a bad move -- Young wasn't a part of the future in Philly, and first-round picks are increasingly hard to acquire in trades. If Sixers general manager Sam Hinkie flips Mbah a Moute to a contender for a prospect or if Shved flourishes in Brett Brown's fast-paced system, that's a bonus.
The 7-foot center will reportedly return to San Antonio after opting out his previous deal

Seattle longs for the NBA to return, but still sports a strong basketball following

Rose is reportedly being courted by the Cavs, Lakers and Bucks, among others
With the club reportedly pursuing Derrick Rose and LeBron James vexed, this news hits hard

Silver said personal political views shouldn't matter when it comes to the longstanding tr...

The Raptors' big man rolled into camp in a beat-up, 25-year-old Audi that he could barely fit...