Revisiting the Rudy Gay trade for the Raptors: Is it working?
The Toronto Raptors were in major need of a change in direction. The Rudy Gay deal was the start of that change and got things in motion.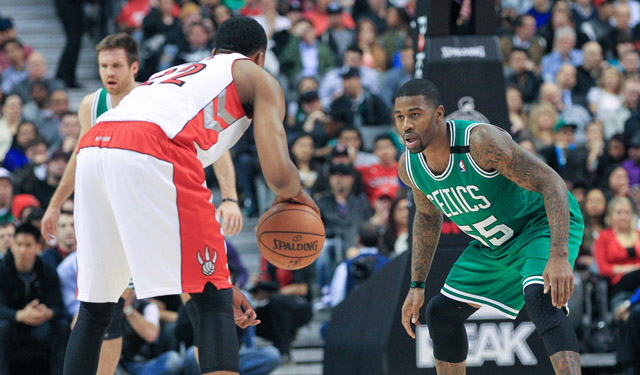 It's hard to get better as a franchise without taking a step back, especially when you're in the middle of a rebuilding process. 
Most people want teams to take progressive steps all the way through and sometimes jump a few key ones in order to satiate our impatience and deliver on observed potential. A step sideways or ever a step back is often looked at as a failure for the franchise and a rebuilding plan gone wrong, but that's rarely the case. Moves don't happen in a vacuum. One trade will rarely fix a franchise. One signing early in the rebuilding process will rarely complete a plan. 
To remake a team and take it from bad to good, you need time. You need a series of trades, signings, and draft picks to shape the roster. Sometimes it can be completed in a year; sometimes it takes a couple of years to complete a vision. But what happens when that vision gets changed in the middle of the process?
Before he was fired, Bryan Colangelo made a few big moves to help put the Toronto Raptors in a good position for rebuilding. He made a lot of bad moves to stunt the growth of the roster and seemingly put the team together in a haphazard fashion, but there were key moves that helped Toronto quite a bit.
He hired Dwane Casey as the head coach, which many believed at the time to be a fantastic move. Casey had one previous head coaching job in the NBA with the Minnesota Timberwolves. He was essentially given 1.5 seasons to fix a sinking ship, a feat not many coaches could have done in that situation with that roster.
After he was fired in 2007, he took a little bit of time before joining the Dallas Mavericks' coaching staff and taking the reins of the defensive preparation for that team. By 2011, he had them playing intelligent defensive schemes that seemed a little ahead of the NBA once they were in the thick of the playoffs. They took down the Portland Trail Blazers in six games, swept the Los Angeles Lakers, beat the Oklahoma City Thunder in five games, and then demoralized the Miami Heat in six games to win it all. Suddenly, Casey was a hot coaching name again.
Another big move Colangelo made was trusting the fifth pick in the 2011 NBA Draft to Lithuanian 19-year old Jonas Valanciunas to be the eventual center for this team. Valanciunas was a relatively unknown big man in terms of what he had accomplished, but he showed incredible promise at the international level that made his skill set and agility just too good to pass up.
Colangelo risked a versatile pick protection plan in trading the 2013 first round pick (and Gary Forbes) to the Houston Rockets in exchange for Kyle Lowry to be the tone-setter at point guard for this team. He brought a "pit bull swagger" (to paraphrase Casey) to a team in desperate need of a little attitude.
And then Colangelo's swan song move was acquiring Rudy Gay and the $37 million owed to him over the next two seasons. It appeared to annihilate the cap and push this team into the luxury tax. They were banking on the player that Gay was supposed to become and not the underperforming, overpaid wing player he was with the Memphis Grizzlies at the time of the deal. It was an expensive gamble for a guy who couldn't make jumpers outside of 15 feet.
At the time of the trade, I wrote that there were plenty of smart reasons for the Raptors to acquire Rudy Gay. My support of the move was contingent on the organization tossing Colangelo out the door when the season was over, getting rid of Andrea Bargnani's contract in some way, and bringing in someone smart to reshape the clay on the roster. That's what the Raptors managed to do this summer.
They shifted Colangelo to team president before he eventually stepped down. Toronto brought in Masai Ujiri, the 2013 Executive of the Year in the NBA to run the organization. They shipped Bargnani to the New York Knicks for Steve Novak ($10.9 million over three years), Marcus Camby (bought out and only counts toward the cap for $646,000 in 2014-15), and Quentin Richardson (deal not guaranteed past this season). They also received a future first round pick and two second round picks.
And this is where the rebuild gets interesting.
The Raptors were much better with Gay on the roster last season than before they acquired him. Of the players who played at least 1,000 minutes for the Raptors last season, only Amir Johnson had a higher net rating than Gay, and they were the only players on the team (along with Kyle Lowry) to have a positive net rating. Despite Gay's struggles at times on the offensive end of the court, the team was 4.4 points per 100 possessions better with him on the floor. The defense improved by 6.9 points per 100 possessions.
After the trade, the Raptors went 18-18 in their last 36 games to look like a real live playoff capable team. The Raptors didn't just play better once they acquired their new small forward; Rudy Gay also played much better by increasing his shooting percentage by 1.7 percent, his 3-point percentage by 2.6 percent, his free throw percentage by 8.0 percent, his scoring average by 2.3 points, and his PER by 3.5.
These weren't monster improvements, but it showed a little bit of a new life within Rudy Gay and his effect on a basketball court. 
The Raptors were supposed to be looking to challenge for a playoff spot in weak Eastern Conference going into last season. They showed so much promise after their first year under Dwane Casey that it looked like the defense was fixed and the offense could shortly follow. But they didn't take that seemingly natural step forward at all. If anything, they took a step backward before a big step to the side with the trade for Gay. It never quite looked like a big step forward or even a quiet shuffling of the feet in front of where they were facing.
They ended up being another team looking lost because the forward progress looked to be stalled. Instead of reshuffling the deck chairs on a sinking ship, they were actually reshuffling a deck of cards to give themselves a new hand to play with during their rebuild.
What we see now in Toronto is a team with a focus-garnering player on offense in Gay -- someone who can grab the attention of the defense and use his talent as gravity to suck the defenders his way when he has the ball. It doesn't matter if you think he can score efficiently; it only matters that the defense is concerned with him, which many of them are. From there on, they have to find the defensive balance we saw two years ago and complementary players stepping up to make the defense pay for giving too much attention to Gay when he has the ball.
The roster will be in flux in the mean time as Ujiri pokes and prods at it to see how it reacts. As he begins to jettison bad deals, attempt to hit on draft picks, and bring in free agent role players, we'll begin to see a new direction and plan forming. And maybe Rudy Gay won't even be involved with the organization a year from now if Ujiri can get someone to take his contract.
However, it looks like the initial move to bring Gay aboard has turned out to be a good start toward changing the steps of the Toronto Raptors. They've begun to make the necessary moves to move forward again. Colangelo helped them move their feet forward at times but he also managed to get them to side-step and jump backwards at times as well.
The Rudy Gay trade didn't fix the Raptors by any means; it just got things moving. With or without Gay, Ujiri will now attempt to get their progress moving forward once again. 
Show Comments
Hide Comments
Houston advances, and San Antonio is set up to follow suit after its Game 5 win

This is fuel to the Westbrook haters' fire

How to watch the first-round series between L.A. and Utah
The playoffs are getting interesting

Harden didn't play great, no one could shoot, and the Rockets still rolled to a 4-1 series...

The Cavs and Warriors have both swept their first-round opponents