Rick Adelman returns to Wolves, will coach Wednesday night
Rick Adelman returns to Wolves team after three-week absence.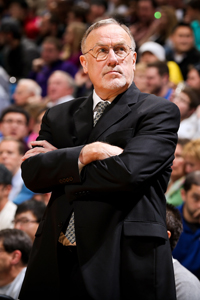 Rick Adelman. 
(Getty Images)
Rick Adelman, who has missed the past three weeks to be with his wife while she was in the hospital, returns to the Wolves bench Wednesday night, the team announced Monday morning. Adelman returned to practice Monday and said his wife is at home and "things are looking better." 
Adelman returns to a Wolves team in the midst of "one of those years." Kevin Love broke his hand twice, Ricky Rubio had to recover from ACL surgery and hasn't looked the same, Chase Budinger is out for months with a knee injury, Nikola Pekovic and J.J. Barea have missed time, Brandon Roy's knees have been Brandon Roy's knees, and the team can't hit water from 3-point range even if it falls out of a boat. 
Adelman's return will likely provide an emotional boost and hopefully soothe some waters that were troublesome in his absence, most notably Ricky Rubio's protest that he was benched late in the game by assistant coach Terry Porter. 
The Wolves aren't totally out of the playoff race but will need a huge win streak in a hurry to make up ground. But most important, things are better with Adelman's wife, who is well enough to allow him to return. That's the best story in all of this. 
Show Comments
Hide Comments
LeBron and the Cavs are looking for their second straight title

This could be another classic series, and our experts have their picks

There are plenty of MVP candidates to go around in what promises to be an epic series
Paul is eligible to sign for $200 million-plus with the Clippers

Pachulia missed all of the final two Western Conference finals games with a sore right hee...

Iguodala will likely play big minutes guarding LeBron James