Rockets-Blazers Game 6 Preview: The stars will bring it home
Preview the Houston Rockets' second straight opportunity to keep their season alive with this Game 6 showdown on the road against the Portland Trail Blazers.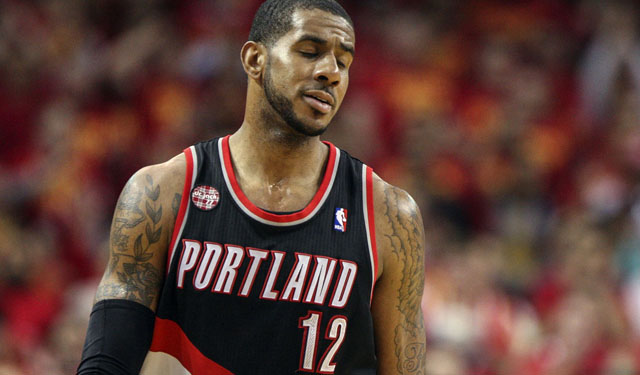 More postseason coverage: Playoff schedule, results | Latest news, notes
Previewing Game 6 of the Rockets-Blazers first-round series.
1. Where We Are: The Houston Rockets managed to win a game at home in the playoffs, which is surprisingly a big deal for them. They put themselves in a historic hole in this series by dropping their first two games at home before fighting back in Game 3 to regain some chance of surviving the first round. After dropping the fourth game in Portland, the Rockets now have their backs against the wall for the rest of the series, no matter what. It worked in Game 5 with them getting much more of a team effort than they've received so far in this series. The defense was solid enough and Chandler Parsons and Jeremy Lin provided a nice scoring boost.
Outside of the Trail Blazers' backcourt, the team struggled to get anything going. Damian Lillard and Wesley Matthews combined for 53 points, but the bench only contributed five points and LaMarcus Aldridge was held to eight points on 3-of-12 shooting. The Rockets need to push the pace a bit more, get easier transition buckets, and find a way to get hot from 3-point land. If they can't do that, they won't get a chance to play in a Game 7 in Houston.
2. The Big Number: 32.3 and 57.3. In the two Portland losses in this series, Aldridge has shot the ball poorly and hasn't had the big impact on offense. He went 8-of-22 from the field in the Game 3 loss and 3-of-12 in the Game loss for a shooting percentage of 32.3 percent in losses in this series. He's 47-of-82 in the wins, making an absurd 57.3 percent of his shots against some pretty solid Rockets' defensive big men. He's excelled against Omer Asik overall in this series and really gotten great shots whenever he wants against Terrence Jones. 
3. Key Adjustment: Have Dwight Howard guard LaMarcus Aldridge. That's what the Rockets have to do to extend this series. They have to slow down Aldridge and Howard has been the best at that in this series. When Aldridge is scoring against Dwight, it's mostly on pick-and-rolls in which Howard has to recover to the space Aldridge floated to and is taking a jumper from. Aldridge can't really score on Dwight in the post and it's limiting the way he attacks. He's had much more success against Jones and Asik on the block and then is big and agile enough to get good jumpers against them. Dwight has to be the primary defender for Aldridge and let Asik protect the rim against everybody else.
4. The Big Story: Whose stars will come through? Game 6 between these two teams will ultimately come down to the pairing of James Harden and Dwight Howard against the pairing of Damian Lillard and LaMarcus Aldridge. Harden has struggled a lot in this series and Howard is just starting to really make his mark. Lillard has been excellent throughout and Aldridge has been fantastic in the wins. If the Rockets want to extend their season, they have to have their stars finish with big games. Otherwise, the Blazers' dynamic duo may just be too much for Houston to overcome.
5. The Facts: 10:30 p.m. ET. Both teams are healthy for this game.
The Warriors have shown that simply putting talent together isn't enough

Hayward will be in Miami this weekend, while Utah and Boston also have meetings scheduled

Sacramento signs Serbian to 3-year, $36 million contract while passing on Ben McLemore
Free agency is around the corner, which means there could be a ton of significant moves coming...

The Knicks still intend to trade Carmelo Anthony even with Phil Jackson gone

Paul George is a college football coach at heart