Rockets' Dwight Howard (ankle) isn't expected to play Thursday
Houston Rockets center Dwight Howard is nursing an ankle injury and isn't expected to play Thursday against the Minnesota Timberwolves.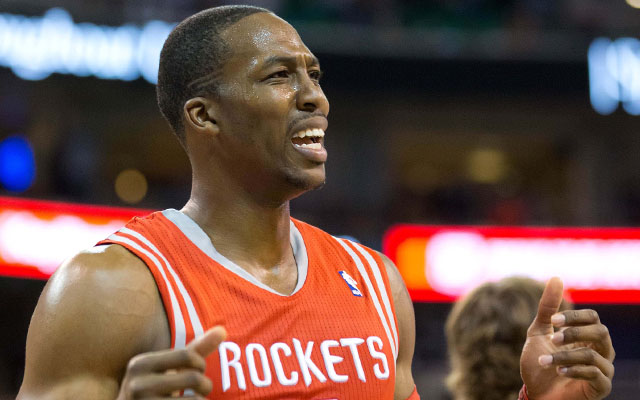 Houston Rockets center Dwight Howard is enjoying a bounceback season after struggling due to various injuries the previous two seasons. He's helped lead the Rockets to being one of the best teams in the Western Conference, looking to make some noise in the playoffs. However, a recent ankle injury has caused him to miss one game this week already and it looks like he'll miss another one this Thursday.
Howard missed practice on Wednesday and Kevin McHale told the media he does not expect his center to play Thursday night when the Minnesota Timberwolves come to Houston. 
Coach Kevin McHale does not expect Dwight Howard (ankle) to play tomorrow vs. Minnesota.

— Houston Rockets (@HoustonRockets) March 19, 2014
This would be the second straight missed game after sitting out Monday in a blowout victory over the Utah Jazz. This would be only the second game this season in which Howard hasn't played. Howard is averaging 18.6 points, 12.4 rebounds, and 1.8 rebounds in his first season with the Rockets.
Show Comments
Hide Comments
He continues to defend the system at every turn, putting any shortcomings on the players

It's a very interesting tagline, to say the least

Boston has a cupcake slate to close the 2016-17 season
Wade's cousin was an innocent bystander in a Chicago neighborhood shooting

The Pistons reserve forward says he looked up to his sister

Kobe Bryant has no problems with Durant's decision to join the Warriors as it brings out his...